High-Tech, High-Touch Care
Using the Best of Technology to Deliver Patient-Centered Care
We live in a connected world. Our phones and our watches are powerful mini-computers that give us access to vast amounts of information. Look around and you'll find many people wearing wristbands to record the number of steps they take, the hours they're sleeping, or how fast their heart beats during exercise. These tools empower individuals to take charge of their health. 
That same drive inspires UVA doctors, nurses, engineers, and students to develop technology that is changing how healthcare is delivered. From managing medications to monitoring life-threatening complications, the following stories are just a few of the high-tech solutions developed at UVA that provide our patients and their families with what they need to live healthier lives—not just in the doctor's office, but in their homes and communities. 
Managing Cancer Pain
Patients in advanced stages of cancer can often experience severe, persistent pain. Luckily, mobile and wireless technology may hold the clues to more effectively managing their discomfort.

Three UVA researchers—a nursing professor, a palliative care doctor, and an engineering professor—have partnered on a pilot project to develop and deploy in-home wireless sensing technology to shed light on the triggers and circumstances that affect pain levels.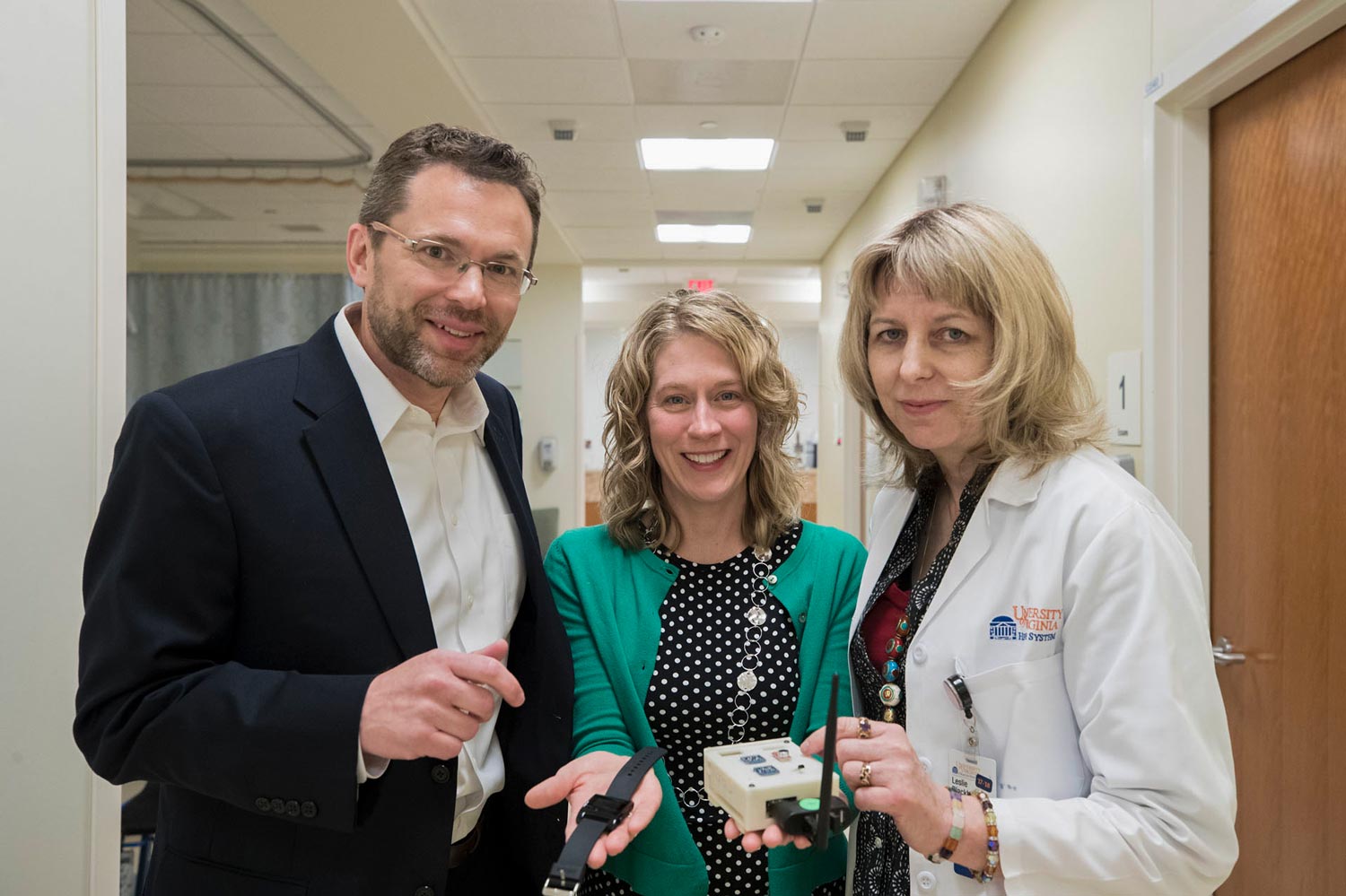 Finding the best solution for pain can be a challenge. As a palliative care doctor, Leslie Blackhall tries to figure out what environmental or lifestyle factors may worsen a patient's pain.

"The goal is to get people up and about, and leading as normal a life as possible," Blackhall says. "That can be a challenge because once patients are in the clinic, they have difficulty answering questions about their pain—especially if they aren't experiencing it at the moment. They're overwhelmed by everything that's going on, and they can't always report the details that might help us figure out how to manage it."

The technology comprises two components. The first, a device resembling a wristwatch, constantly monitors physiological factors, such as heart rate and movement, and provides an interface to deliver information to the wearer. Second, a room sensor gathers information about the environment, such as lighting and noise levels, humidity, and temperature. It even assesses social stimulation by monitoring how frequently people come and go into a particular room.

"The idea is to get these devices into people's natural living environments to better understand the context of the patient and caregiver experiences," says John Lach, a UVA electrical and computer engineering professor who developed the technology and first used it to monitor agitation in patients with dementia. Nursing and engineering graduate students are also working on the project.

"This technology is not just for patients—caregivers benefit, too," explains nursing professor Virginia LeBaron, who led the project. "Watching someone you love suffer is very traumatic. If we can help the patient feel better, we can often make the caregiver feel better and vice versa. If we can relieve the stress for both parties that would be a wonderful outcome."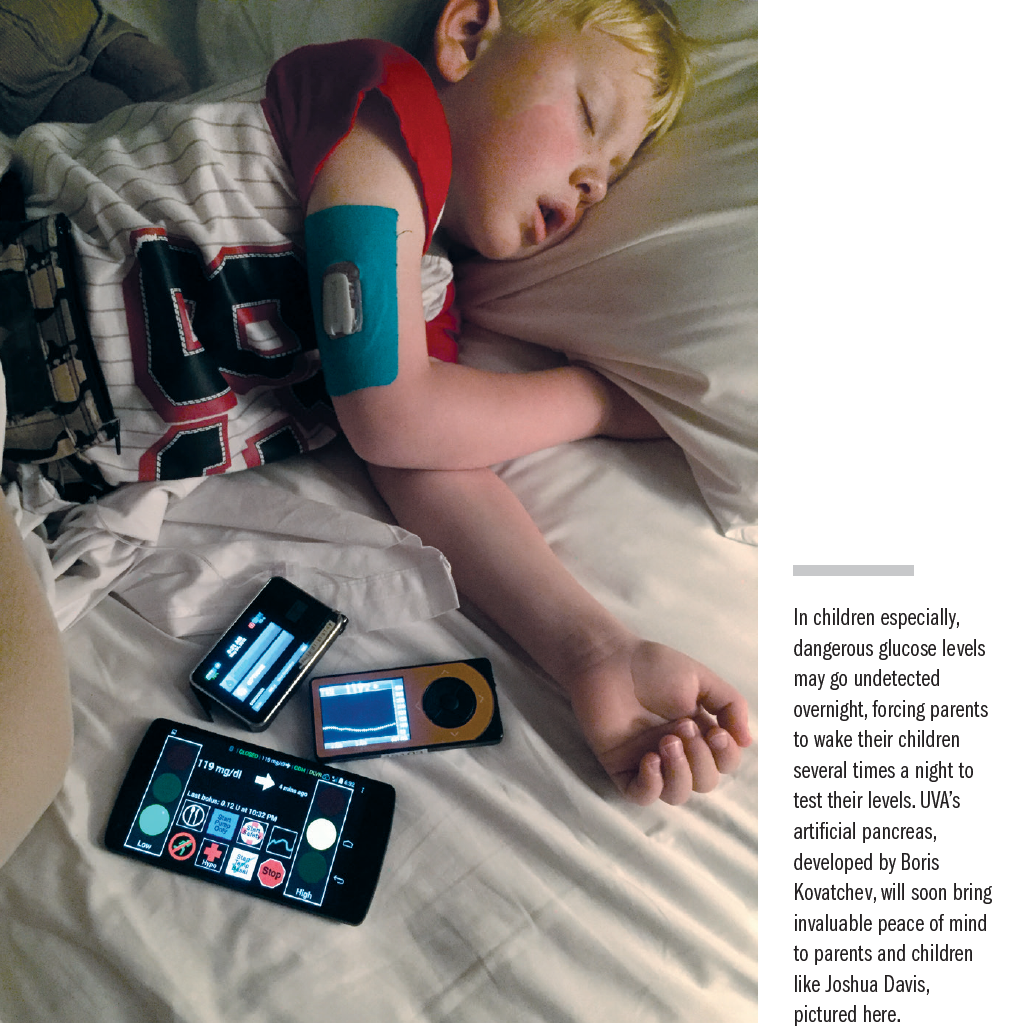 HEALTHCARE BEYOND THE HOSPITAL
People heal faster when they are surrounded by loved ones in their own homes and communities. UVA's Karen S. Rheuban Center for Telehealth has more than 20 years' experience building connections between specialists and patients across the Commonwealth, the nation, and the globe. The program has saved telemedicine patients the expense and time of long distance travel, giving them access to the expert care they need close to home.
As the complexity of patient care increases and resources become more constrained—not just financial resources, but also intellectual capital—we have to reframe the way care is delivered.
UVA's Department of Dermatology is experimenting with different forms of telemedicine, using equipment that allows doctors to virtually touch and feel skin lesions on patients located at a distance from Charlottesville. The department also plans to launch a clinical trial using Google Glass, which can take pictures of suspicious skin lesions and use artificial intelligence to calculate their risk of being cancerous. 

Dermatology Chair Arturo Saavedra says these kinds of innovations in healthcare not only improve efficiency but also meet patient demands by using everyday technology. 

"As the complexity of patient care increases and resources become more constrained—not just financial resources, but also intellectual capital—we have to reframe the way care is delivered," he explains. "In the dermatology department, we're trying to be the platform where we test technology that's available in other areas of the world and incorporate them into the fabric of medical operations. These things can alleviate physician burnout and improve the quality of the patient-doctor interaction." 
 
POWERFUL TECHNOLOGY RIGHT AT YOUR FINGERTIPS 

Nearly half of people diagnosed with HIV in the U.S. never establish regular care, and that can lead to serious consequences and even death. HIV specialist Rebecca Dillingham is leading a team that created a mobile app to enhance HIV care and improve patient outcomes.

The PositiveLinks app offers a powerful mix of engagement, social interaction, and access to care providers. It provides appointment reminders, important health information, and daily questions about stress, mood, and medication adherence. In addition, it features a virtual support group where users can interact anonymously to ask questions, share their stories, and find strength in the journeys of others. 

Users of the app showed marked improvement in sticking to their treatment programs. So much so that Dillingham's team received substantial support from the Virginia Department of Health to implement this program with other clinics across the Commonwealth, especially in Southwest Virginia. 

Why do some apps work when similar ones fail? In a paper outlining the success of the HIV app, researchers credit the app's collaborative design that emphasized the development of connections to care and to others with a shared experience. 

"We believe in designing 'warm technology,' technology that is personal, facilitates human contact, and helps patients to build a path to better health and well-being."