A Reason to Row
Family and Community Come Together to Support UVA Cancer Center
This September, 14 teams of four rowed 567,451 miles and raised almost $12,000 for UVA Cancer Center. It was a chance for a family and a community to come together to celebrate a son and support a worthy cause.

It started in February 2017, when Sally Bondurant and her husband Svend Pedersen learned that their 27-year-old son, Eric, had testicular cancer. Eric lives in Roanoke, VA, and immediately had surgery there to remove his testicle.

Unfortunately, in the fall of 2017, the cancer was still present even after a round of outpatient chemotherapy. His doctor made the decision to refer him to Dr. Robert Dreicer at UVA Cancer Center. In February 2018, he began inpatient chemotherapy treatments at UVA. 

"Fighting cancer is a journey for the individual and the family," Sally says. "As a parent, there is a quiet desperation and feeling of powerlessness."

Eight months and four rounds of chemotherapy later, Eric recently received a very positive prognosis from Dr. Dreicer. Besides check-ups every two months, Eric can return to living his everyday life. In gratitude for the care Eric received at UVA, Sally and Svend wanted to give back, while at the same time honoring their son's courage and strength during treatments. And, they knew just the community that would help them do it.

"Eric was doing his part fighting the disease, doctors and medical staff at UVA were doing their part by treating and healing, and we wanted to do our part too," Sally explains.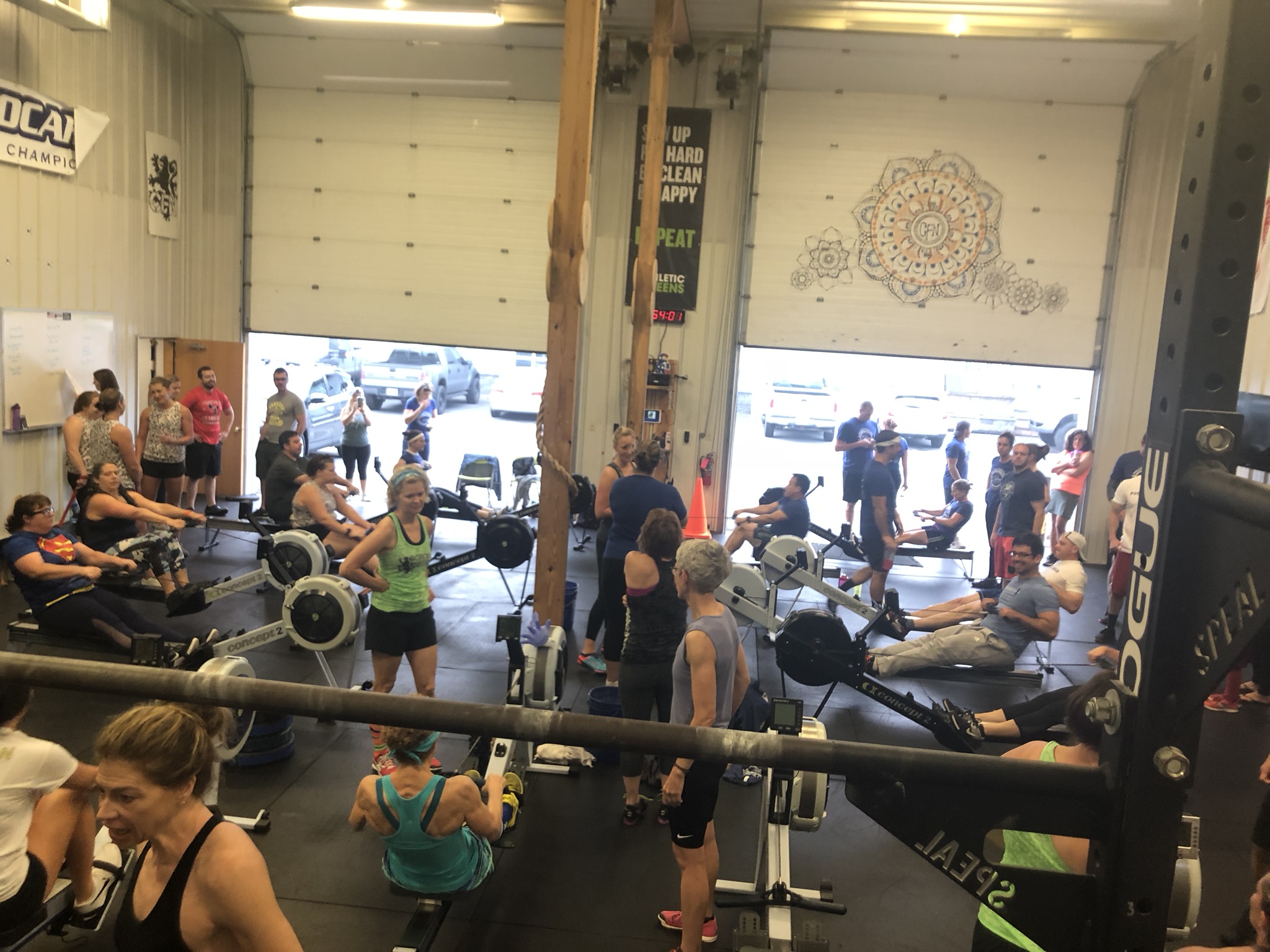 C/O Sally Bondurant
Longtime members of CrossFit Nittany in State College, PA, the couple decided to host a "Row to Fight Cancer" fundraiser where teams would row three hours for maximum cumulative meters. In conjunction, Sally and Svend set up a giving page on the UVA Health Foundation's "Get Involved" platform, which allows supporters to customize online giving pages and direct donations to the cause closest to their hearts. 

The page allowed team members, loved ones, and supporters from afar to support the family and the event. Sally and Svend decided to not designate how the Cancer Center uses the funds. This kind of support is incredibly valuable. It allows UVA Cancer Center Director Dr. Tom Loughran to meet unforeseen needs or take advantage of new opportunities—whether it is supporting a novel research project or funding creative support services.

"A dear friend once told me that love was an action word," Sally says. "For us, this fundraiser was our action. Our way to be involved, our way to make a difference. Eric's journey has taught Svend and me so much. First, the strength and courage of our son. Second, the love and generosity of family and our friends. And, finally, that hope and goodness can be found in our world."

To learn more about our Get Involved platform or set up a giving page, click here.