This UVA Baseball Recruit is Beating Cancer—And Making a Buzz Along the Way
In April of 2018, the University of Virginia baseball team signed a new recruit. At just nine years old, Parker Staples of Waynesboro, VA, was a bit smaller than the 34 other players on the team, but one thing was (and is) certain—his love of the game is just as big as theirs.

The signing event was not Parker's first visit to Charlottesville. In late 2017, Parker was diagnosed with Burkitt's lymphoma and began intensive treatment at UVA Children's Hospital. Burkitt's lymphoma is a non-Hodgkin's lymphoma that attacks the lymphatic system, which helps the body fight infections. Burkitt's is an uncommon type of cancer, mostly affects children, and is typically very aggressive.

The Staples family chose UVA for treatment because of its close proximity to their hometown, Parker's mom Jessica Staples explains, and notes that when the life of your child is at stake, choosing your care provider is one of the toughest decisions you will have to make.

"Now, there is no question it was the best decision," Staples says. "Our care team at UVA gained our confidence and we felt they treated Parker as they would have treated their own child. When we were in the hospital, our family spent more time with them than our own extended family. This becomes the new normal, and they become family."
Making a Buzz
During his treatment, Parker and his family worked closely with one of UVA's Child Life Specialists (CLS). A CLS is a healthcare professional trained to support both patients and their families, and their goal is to make the hospital experience empowering and positive by minimizing stress and anxiety. 

One very tangible way that a CLS helped Parker was through the use of a Buzzy®. A Buzzy is a small, colorful device that, through vibrations and an ice pack, acts as a pain blocker for needle pricks. After being placed on the site of the needle prick, the device buzzes and uses cold temperature to distract the body's senses from the pain of the needle.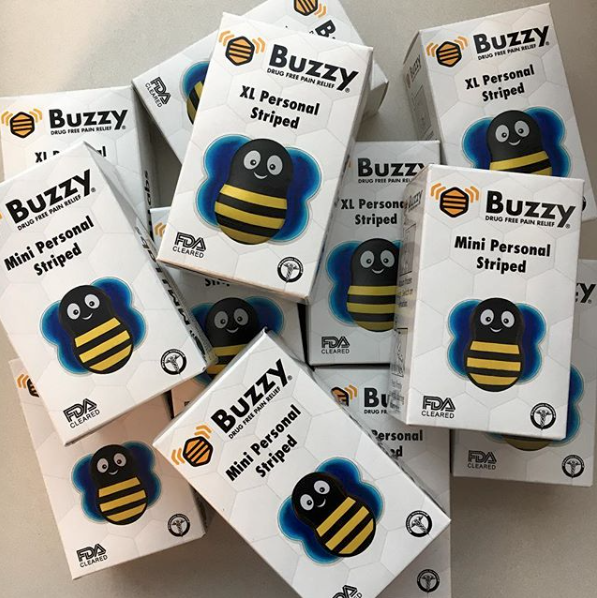 "When a blood clot was discovered in Parker's arm, he needed to receive a blood thinner injectable twice a day," Staples notes. "Like any child, he was terrified of shots. The Buzzy was a lifesaver for him and us. The daily shots actually became routine for him."

As Parker was going through cancer treatments, his love of the Hoos and the Washington Nationals were a constant source of motivation for him. Washington Nationals' right fielder Bryce Harper is Parker's favorite player, so Parker decided to create Bryce "Parker" Strong bracelets to draw strength and inspiration from on hard days.

Then, Parker took it a step further, and decided he wanted to give back to the kids and caretakers at UVA Children's Hospital. 
Bracelet sales brought in more than $1,000. Parker wanted his donation to get more of the things for UVA that made him feel better during his treatments—specifically, playroom toys and Buzzies.

"Parker's fundraiser has had a huge impact on the children and families here at UVA who experience the stress and anxiety of having IVs placed, labs drawn, and injections administered on a daily basis," Kristina Berg, Parker's CLS, says. "He also impacted his community as a whole as he involved his friends, his school, and his family in this fundraising event. Parker has been a huge inspiration to our child life department and has set a wonderful example for other children who want to give back and help other kids."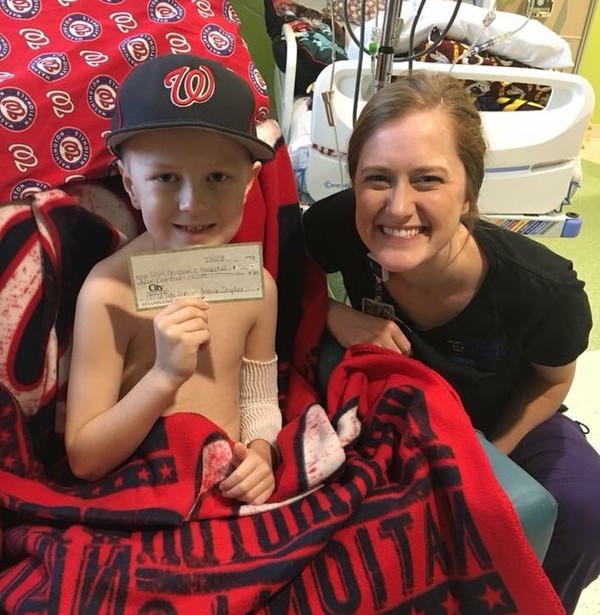 Parker Today
Three weeks before he signed on to the UVA baseball team, Parker successfully completed chemotherapy. His signing was made possible in part thanks to Team Impact, a national non-profit based in Boston, MA, that connects children with serious or chronic diseases with college athletic teams.

"Joining the team has been the best therapy for Parker and for us, to see how happy he is," Staples says. "We cannot ask for a better group of guys that have welcomed Parker to their family."

Today, you can find Parker doing two of his favorite things—cheering on the Nationals and going out for as many UVA baseball practices and team gatherings as he's able to attend.