Clary Harris Fellowship Reaches a Milestone—and Creates a Legacy of Research
When Rebecca Clary Harris' life was cut tragically short, hundreds of family members, friends, and colleagues stepped up to support her lifelong commitment to melanoma research. At the time of her death, Becca was a fellow in Dr. Craig Slingluff's lab, pursuing promising scientific methods for improving the lives of patients with melanoma. Today, the research that Becca began continues to progress, thanks to her family and friends who established the Rebecca Clary Harris, MD Memorial Fellowship. The fellowship supports postdoctoral fellows and graduate students, who, like Becca, pursue clinical and translational research in UVA Cancer Center's Human Immune Therapy Center. Last year, the fund met a critical $1 million milestone, which secures its future as an endowed fellowship, supporting the Clary Harris fellows in perpetuity.
"I'm thrilled to see the Rebecca Clary Harris Memorial Fellowship reach this momentous milestone," says Slingluff, who directs UVA's Human Immune Therapy Center. "I'm grateful for every contribution—from the largest to the smallest—and especially for the anonymous $250,000 challenge match that inspired and motivated our efforts."
In the Slingluff lab, the Clary Harris Fellowship helps ambitious investigators move ever closer to a comprehensive and fundamental understanding of melanoma—and to powerful new treatments and therapies. These research fellows generate critical data and perform vital analysis that supports a growing number of clinical trials and new directions in the lab.
"The work that Becca initiated in our lab, which was published posthumously, was the first intriguing evidence of the crucial role of immune activation within the skin at the site where vaccines are given," says Slingluff. "We have continued that work to understand how different vaccination strategies support optimal immune responses against cancer."
To date, seven talented researchers have held the Clary Harris Fellowship, with two more on the horizon. One of the most recent, Marit Melssen, a graduate student from the Netherlands, pursues vital research aimed at understanding the function of molecules that identify immune cells within melanoma that can react against the melanoma. She submitted preliminary data for a $200,000 grant application to the Cancer Research Institute that was funded. When that grant ended, the Clary Harris fellowship supported her for the time she needed to complete the project, which led to four publications in peer-reviewed journals, and two additional manuscripts in review. Another Clary Harris fellow, Dr. Ileana Mauldin, made a variety of critical scientific contributions, including developing new techniques to identify immune cells and functional markers in cancer tissues as a way to predict which patients are most likely to benefit from immune therapy. Mauldin is now a faculty member in the Slingluff lab, continuing to advance this important research.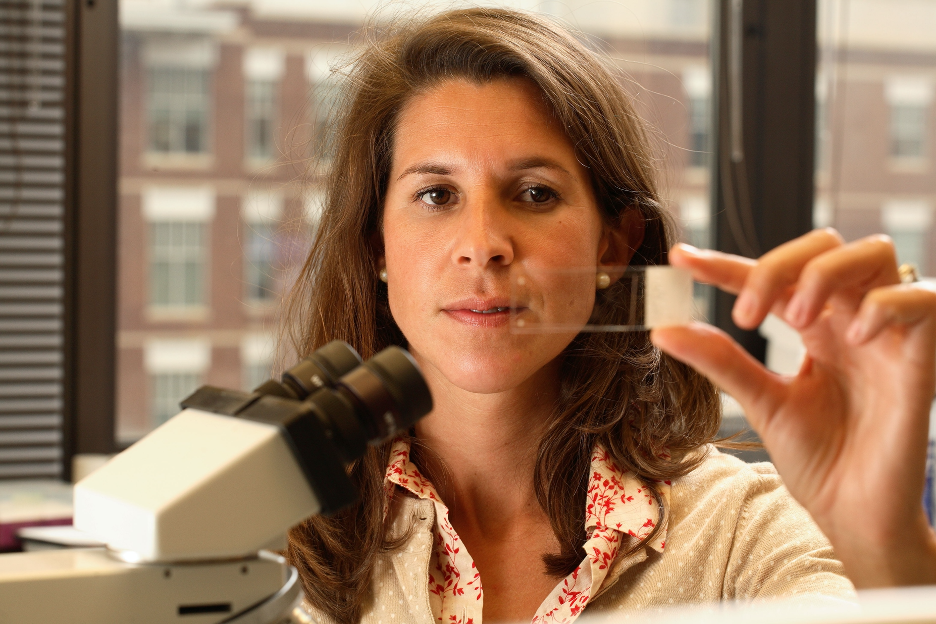 Other Clary Harris fellows have provided essential data and analysis that had led to multiple clinical trials. Their findings have given direction to groundbreaking new concepts and innovations for additional trials. In all, Rebecca Clary Harris fellows have published an impressive 24 manuscripts. The fellowship has enabled these scientists to keep their projects active and moving forward, instead of stopping and starting while waiting for external grant funding.
"We have continued Becca's work to understand how different vaccination strategies support optimal immune responses against cancer, says Slingluff. "The Clary Harris Fellows are contributing to every facet of this work, which is already saving and extending the lives of melanoma patients."

Each year, these ambitious fellows, dedicated and skilled like Becca, continue to move melanoma vaccine research forward. The scientific discoveries that Becca began continue to evolve as these investigators delve deeper into developing effective, efficient, and potent vaccines. Becca's work endures, taking new shape over time, thanks to the Clary Harris Fellowship begun by those who admired and cherished her and made their own commitment to continuing her life's passion.
"I'm excited by our progress and privileged to pursue this research in Becca's memory," says Slingluff. "Now that the fellowship has met its target, it will fund a postdoctoral research fellow or two pre-doctoral fellows each year. These bright new trainees will extend our research and help to translate laboratory findings into lifesaving patient care. Future melanoma patients will have Becca to thank for her dedication to this work and her friends and family for sustaining her legacy in this meaningful way."