Couric Center Fulfilles a Legacy of Hope
Sharp Family Gift Impacts Generations of Cancer Patients
What began as a misdiagnosis ended with a bold commitment to women's oncology.

In 2000, April Garnett was treated in her hometown for what doctors thought was a fibroid issue. Shortly thereafter, she developed another tumor.

Her family turned to Peyton Taylor, MD, at UVA Cancer Center for help. In collaboration with pathologist Mark Stoler, MD, Taylor discovered that the tumors were actually low-grade sarcoma, a rare form of cancer that is treated by removing the uterus. This was not an option for April, who was set on having children. Determined to save her fertility and her life, Taylor and Stoler reevaluated April's options. Thanks to their expertise, April and her family would go on to celebrate her marriage and the birth of her two children.

"The partnership with pathology was essential," Taylor says. "If the pathology hadn't been correct, the care management decisions wouldn't have been correct. If those decisions hadn't been right, April would have been unable to fulfill her dream of children."

Women's Oncology at UVA

When April first visited UVA, only three academic institutions in the U.S. offered gynecologic pathology training programs.

Taylor and Stoler recognized the importance of the partnership between oncologists and pathologists and realized that UVA had the ability to establish a rare and meaningful training program. Rick and Sherry Sharp, April's parents, shared this vision. Their first gift to the Cancer Center was the foundation of UVA's Gynecologic Pathology Fellowship, now renowned as one of the best in the country.
"Dr. Taylor always treated me with such compassion and care, and continues to do so well after his retirement from UVA," April says. "I greatly appreciate how he considers all aspects of my health and well-being, understanding that I am more than just a body with cancer.

Not only did Dr. Taylor help me survive seven uterine leiomyosarcomas during his time as my oncologist, but he also preserved my fertility so that I could have two healthy children. I owe him the world, or at the very least my world. My depth of love and gratitude for Dr. Taylor is profound and everlasting."

With such success, the Sharps realized that they could do much more. They could create a complete program dedicated to caring for patients like April. The timing was perfect—plans for the Emily Couric Clinical Cancer Center were in motion, and Taylor dreamed of creating a comprehensive women's oncology program that could capitalize on the emerging field of cancer genetics.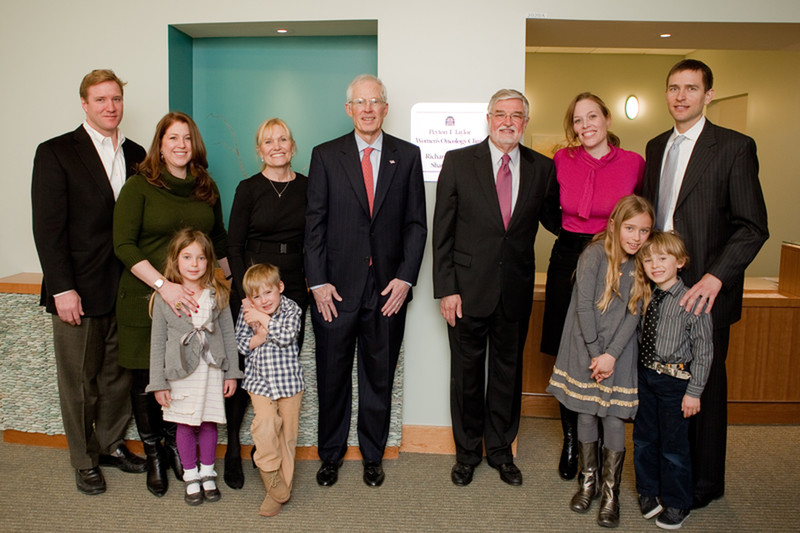 Today, their shared vision is realized within the Couric Center, which serves as a home base for the Women's Oncology Program and the Women's High Risk Breast and Ovarian Clinic. The program has grown to include a nationally renowned team of women's oncology experts, all of whom were named to Newsweek 's "Best Doctors" list in 2015.

Currently the High Risk Clinic is the only designated center in the region that serves women at higher risk for developing cancers that can run in their families. The program encompasses a multidisciplinary care team of breast and gynecological oncology physicians, nurses, social workers, and genetic counselors, and—as it was with April—the patient is at the center.

Using the common ground of genetics, the clinic plays a pivotal role in both designing and running clinical trials related to all women's oncology. Through cutting-edge research and cohesive working relationships between team members, women's oncology patients in the Commonwealth and beyond have access to innovative, personalized care and treatments.

"Having a dedicated women's oncology clinic space has been truly amazing," says Susan Modesitt, MD, director of the Gynecologic Oncology Division and co-director of the Women's High Risk Clinic. "It allows everything to be focused entirely on women. It also provides a physical environment conducive to collaboration and innovation for the clinical providers who have devoted their professional lives to improving women's cancer outcomes at every level."