For Every Mile, a Dollar
A Q&A with Jeremy Sanders, the Running Dad and co-founder of The Lucas Fund
For some, running is just a form of exercise. But for many, running is a form of therapy – or if you ask Jeremy Sanders, "the Running Dad," it's a life-changing outlet.

In 2004, Jeremy and his wife Jennifer welcomed their first child, Lucas, into the world. He was born prematurely due to a condition called Hydrops Fetalis, a condition characterized by excessive fluids in the baby's body. These fluids affect respiratory and heart functions. Jennifer was rushed to the University of Virginia's Neonatal Intensive Care Unit, where Lucas was delivered on September 18, 2004. Although his heart sounded strong while in the womb, Lucas only lived a short while after entering the world.

In memory of their firstborn, the Sanders family—which has since grown to include two sons, Connor and Cole—started The Lucas Fund in 2004. The fund supports the care of patients and families in UVA's NICU, and has already raised more than $38,000.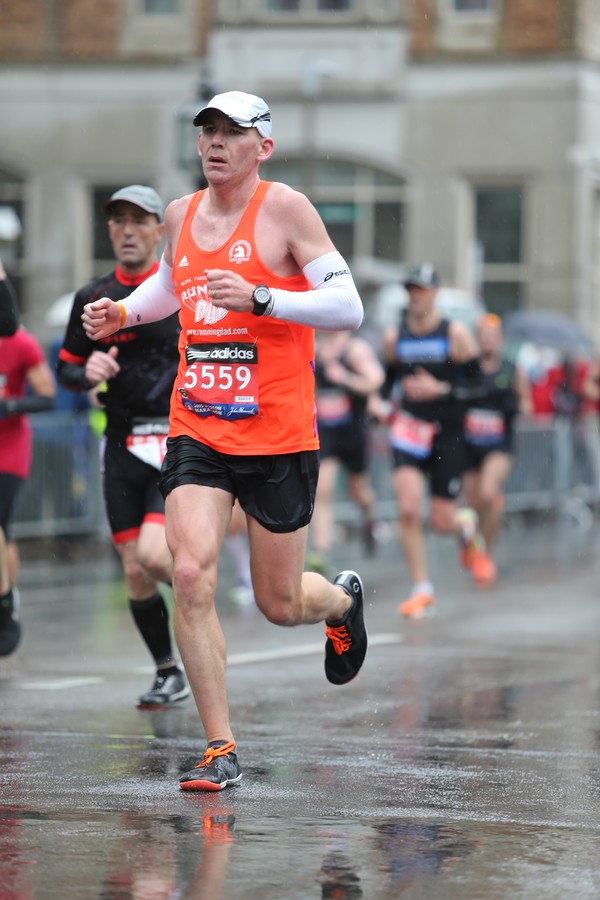 Courtesy of Jeremy Sanders
Q: What inspired you to start the Lucas Fund, and how is money raised for it?
A: When Lucas passed, we were given information about how we could raise money for the hospital by setting up a charity in his name. We got it all set up and started to contribute as a family and some close friends. We would usually donate on Lucas' birthday or at the end of the year. When I started running in 2011, I decided to donate $1 for every mile I ran to the Lucas Fund. Those first few months started with donations of $30 or $40 for the month for the total miles I ran in the month. Now the amount of miles I run and dollars I donate is in the $200-$300 range. As I got more and more into running, I started a blog to share my experiences of trying to fit running into a busy schedule with kids and work. RunningDad.com launched and picked up an audience of followers who can relate to that struggle. I have organized several challenges, such as a 10x10 Challenge (10 miles per day for 10 days in a row) where participants get sponsors to donate in their name to the Lucas Fund. I also took over race director duties for the Liberty 5k in Winchester, Virginia, and a portion of the proceeds go to the Lucas Fund. Another local race, the Still Standing 5k in September will also benefit the Lucas Fund.

Q: Other runners and families have joined you in your fundraising mission. What has seeing that growth been like?
A: It has been really cool to see people out at races, wearing the Running Dad shirts that also have the For Lucas logo on the backs. It started as just a few of us; now there are quite a few Running Dads all over the country and world. I had a runner in Sweden contact me about getting a Running Dad shirt and he wears it to races over there. I have a tight group of running friends who run together, train together and hang out together. When we race together, we are encouraging to other runners and try and create a fun, friendly atmosphere, which reflects what we as Team Running Dad want to be—ambassadors for the sport of running. At the same time, we are spreading the story of Lucas, keeping his memory alive, and helping other families.

Q: What are some of your favorite Lucas Fund-related memories?
A: There are quite a few. I ran the Baltimore Marathon with a group of four other "Running Dads". We raised over $2,000 as a group. This year, Team Running Dad ran the Cherry Blossom Ten Mile Run in Washington, DC. We had a lot of fun as a group, clad in our pink shorty shorts. It definitely got people looking at us and seeing the For Lucas logo. I am a certified running coach, and a group of athletes/friends that I coach ran the Richmond Marathon as "Team For Lucas". I watched all of them finish, two of them with Boston Qualifying times.

Q: What are your goals for The Lucas Fund?
A: I want to continue to use the fund as a personal motivator to help other families. My wife, Jen, and I had set a goal of $50,000. That is well within our reach. We will need to sit down as a family and see what our next goal for the Lucas Fund is.

Q: What are some of your personal running goals?
A: I have some big races coming up in the next few months. I will be running the Kauai Marathon in Hawaii on September 3rd. I'd like to finish in the top 10. Maybe higher, but I don't want to jinx it. September 29, I am running the Yeti 100 in Abingdon, Virginia. 100 miles. Yikes. My goal is to finish in under 24 hours. In November, I have the JFK 50 Miler. I have run it twice already, so my goal would be to do it in under 8 hours. I would like to run a 5k in under 17 minutes in the near future. I ran a 17:10 this year. At 41-years-old, I don't feel I am getting any slower with age.