A Family Affair
UVA Basketball Legend Scores a Slam Dunk for UVA Cancer Center
When Ralph Sampson's father was diagnosed with cancer, Ralph knew he had to do everything he could to help.

"I moved back home to Harrisonburg when my dad was diagnosed with prostate and lung cancer," remembers Ralph, a UVA alumnus and Virginia Sports Hall of Fame inductee. "I became really entrenched in his treatment."

Now 81-years-old, Ralph Sampson, Sr., has been cancer free for three-and-a-half years, and his son has become a determined advocate for cancer awareness and support.
Recently, Ralph and his family competed on and won Celebrity Family Feud, a long-running game show where celebrity families compete to raise money for their favorite charities. The Sampson family bested former NBA rival Kareem Abdul-Jabbar and his family. In July, the Sampson family donated their $25,000 prize to UVA Cancer Center to support early detection cancer screenings at UVA.

While his father was receiving care, Ralph came to understand more about the importance of early detection, particularly among men who don't visit doctors early enough in the process.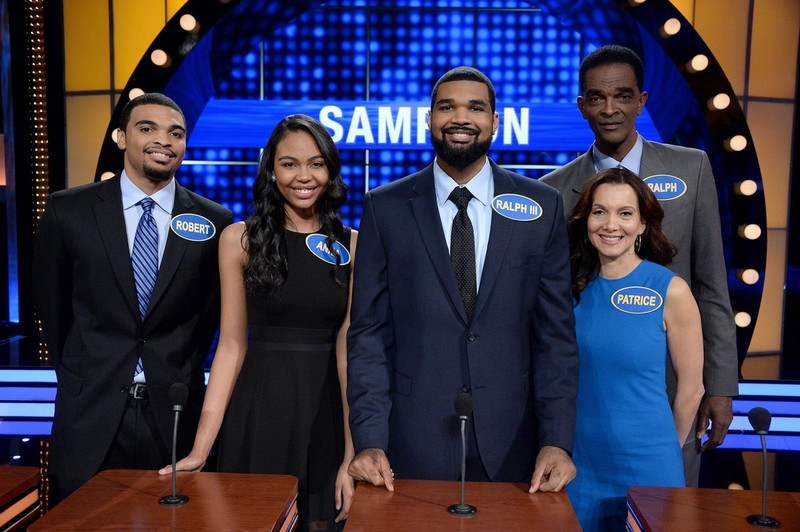 Eric McCandless, ABC
Early diagnosis is critical because more treatment options are often available—giving patients and their families more time and hope for a brighter future. It's this future that Ralph and his family are fighting for.

"We just want to raise awareness, raise money, and do the best we can," Ralph says.

Still Winning After 35 Years

Sampson's storied UVA basketball career began in 1979. He was named the Naismith National College Player of the Year three times and was the No. 1 draft choice of the Houston Rockets in 1983. He was named NBA Rookie of the Year in 1984 and led his team to the NBA Finals in 1986. Ralph was named to the Basketball Hall of Fame in 2012.

In 2016, he joined former UVA women's basketball coach (and pancreatic cancer survivor) Debbie Ryan and ACAC athletic club owner Phil Wendel in a fundraising event, presenting the Cancer Center with a $50,000 check.

While accepting the Sampsons' Family Feud donation, UVA Medical Center CEO Pamela Sutton-Wallace praised Ralph's commitment to UVA. "You have given so much to UVA over the years, but the greatest gift you could give us was entrusting your father to our care."