A Home Away From Home
Community Support Makes Redesigned 7th Floor Family Common Areas Possible
If a child has been admitted to a hospital's intensive care unit, the only place a family wants to be is not far from his or her bedside.

At UVA Children's Hospital, this often means that UVA Medical Center's seventh floor—which includes both the neonatal and pediatric intensive care units—becomes a very familiar environment for patients and their families. During the past year, the space was renovated and transformed into a colorful and imaginative space, the same look and feel brought to life by UVA Children's Hospital clinics at the Battle Building just across from the Medical Center.

This transformation has been made possible by both hospital funding and private philanthropy, including proceeds from the 2017 Main Event Gala. The gala, held at Keswick Hall & Golf Club, brought together more than 400 members of the community and raised more than $296,000 to help with the seventh floor's renovations.

Within the seventh floor, two special common areas have been designed specifically with families in mind.

"When your child is sick, you never want to be more than a few minutes away from them," says Karin Skeen, MSN, RN, associate chief of women's and children's services. "We wanted to provide families with spaces that allow kids to play and to get away—without really leaving at all."

Thanks to the generous philanthropic support of Panera Bread and its Change for Children campaign, a round-up initiative continuing into 2018 at 16 local and regional cafes, and the Log a Load for Kids Foundation, two new common areas on the seventh floor will be just that—large, colorful, modern rooms just down the hall from patients and their caregivers.

"Our Log a Load for Kids play area is meant for families and siblings, for playtime and gatherings," Skeen says. "It will be a fun, new space for anyone who spends much of their time on the seventh floor."

Meanwhile, the Panera "Change for Children" Family Room is meant as a comforting sanctuary for patient families, and will have a private area as well as a kitchen—a new and improved home away from home.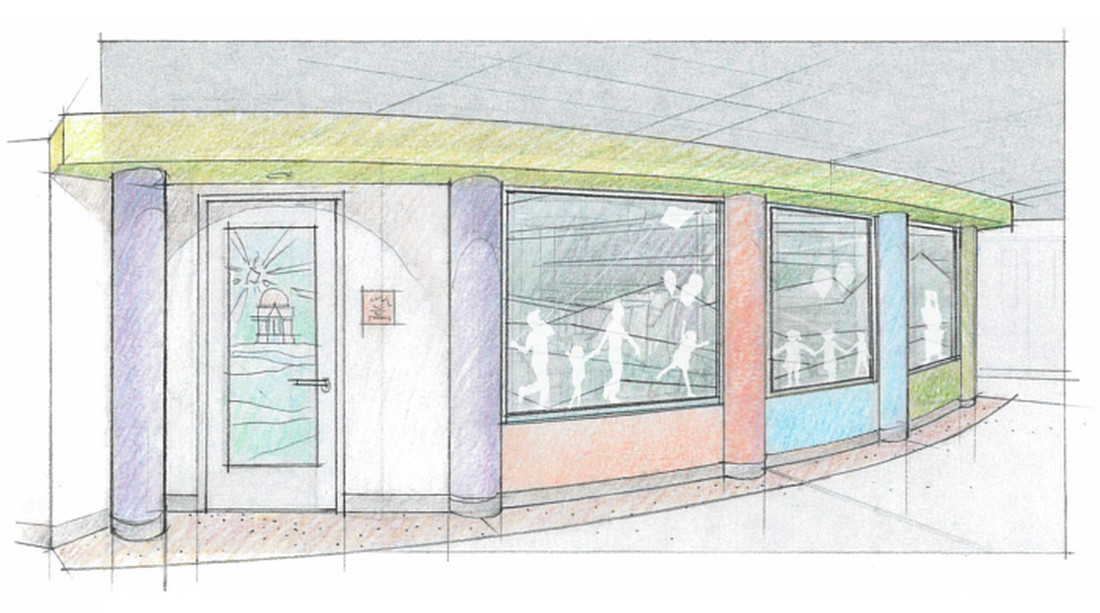 Jason Maloney AIA, HKS Architects
"We're incredibly appreciative of our customers and proud of our employees who, through the Change for Children campaign, have made this new space a reality for patients and families," says Rick Postle, UVA Children's Hospital Committee member and owner of Blue Ridge Bread, Inc., which operates the Panera franchises participating in the campaign. "This was truly a community fundraising effort, and we're so excited for the room to open in November."

The Log a Load for Kids Foundation has pledged $100,000 over the course of three years, and its play area will open in December of 2017.

"Log a Load for Kids is very excited about this renovation," says Rich Palermo, local chairman for the Log a Load for Kids Foundation. "We have been partnering with UVA Children's Hospital for more than 25 years, so to be able to make this pledge is truly special for all of us."