Setting the Stage for the Next Generation of Prostate Care
Gift will help patients make the most informed decisions about their care
"I always wanted to be a surgeon," says urologist Kirsten Greene (Col '95). "I like the idea of solving a problem or fixing a particular situation for my patients using my hands."
Greene, an Echols and Jefferson Scholar while studying at UVA, is a national leader in robotic surgery. "Robotic surgery often leads to faster recovery times and better outcomes for patients," explains Greene, who serves as associate chief medical officer for UVA Health and is the Paul Mellon Professor and Chair of the UVA Department of Urology.
For Greene, technology is often the answer to balancing patients' needs with quality of life. It's a philosophy she imparts to the future urologists she mentors. This pioneering spirit and focus on the future attracted the attention and support of Charlottesville residents Drucie and Jon Cole.
A gift from the Coles will help launch an integrated urologic program at UVA that brings together faculty from different fields with one common goal: find new ways to diagnose and chart the spread of prostate cancer so that patients can make the most informed decisions about their care. A key component of the collaborative effort between Greene and Dr. Robert Dreicer, UVA Cancer Center deputy director and associate director for clinical research, will be the mentorship of some of UVA's top junior investigators who will help run cutting-edge clinical trials. These rising stars will benefit from the experience of the seasoned investigators, and will contribute new ideas and energy to the study.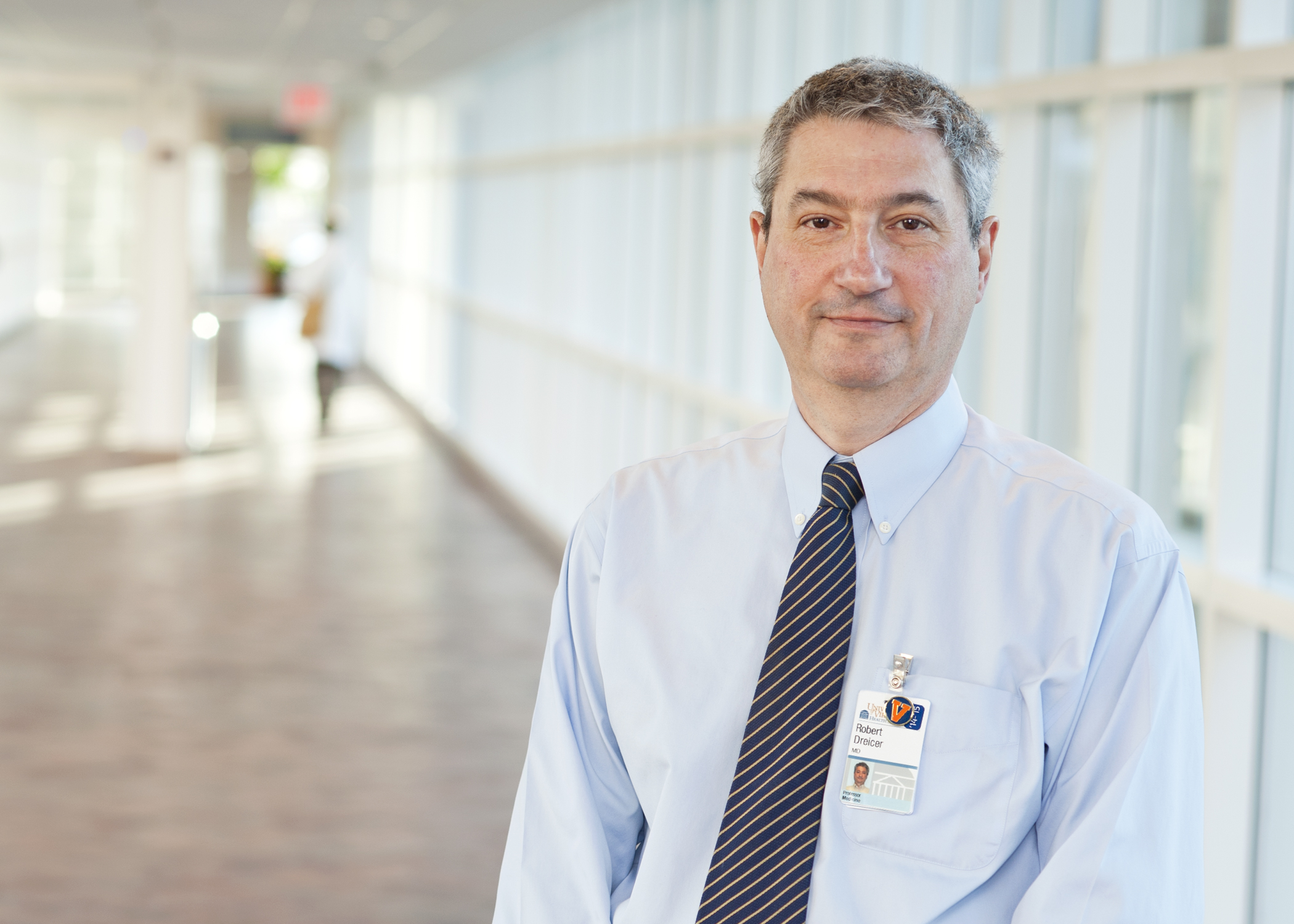 "Cancer research has come a long way in the past several years, but there is so much left to discover," says Drucie, a UVA Cancer Center Advisory Board member. "During my time on the board, I've been inspired by the frontline caregivers like Dr. Greene and Dr. Dreicer. Jon and I want to do our part to accelerate their efforts and help provide the support young investigators need to thrive."
Prostate cancer, one of the most common cancers in men, usually grows slowly and remains confined to the prostate gland, where it may not cause serious harm. However, while some types of prostate cancer grow slowly and may need minimal or even no treatment, other types are aggressive and can spread quickly. This poses a challenge for physicians: Take an aggressive approach to treating the cancer, or wait to see if the disease spreads?
The Coles' gift will help UVA better understand and develop new treatments for oligo metastatic prostate cancer, a stage of the disease increasingly observed with new and improved imaging techniques also being studied at UVA.
"I am grateful for the support of the Coles who are helping us jumpstart a program that will lead to more integrated care and better outcomes for patients," says Dreicer. "With the Coles' help, Dr. Greene and I will set the stage for a new generation of investigators who will, in turn, make lifesaving breakthroughs of their own."
"UVA is the place to be if you have cancer," Greene says. "Because we are an academic medical center, we have more options for treating patients: radiation, immunotherapy, and surgical solutions that are highly effective. These technological advances can make all the difference to our patients, but we must be mindful to balance quality of life with our treatment plans. It's our hope that this effort supported by the Coles will give us the answers our patients need to take charge of their own care."