Battling a Rare Blood Cancer
Patient Brad Glass and his wife, Laura, created the LGL Leukemia Research Endowed Fund.
Brad Glass was "floored" in December 2021 when a hematologist told him he likely had leukemia. The former faculty member of the University of Delaware College of Education and Human Development was enjoying semi-retirement in New York with his wife, Laura, the senior policy advisor for higher education at the New York State Education Department. Although routine blood work had indicated something "off" with his white blood cells, sending him to the hematologist in the first place, Brad says he wasn't particularly worried. One, he felt fine and was in good shape—regularly participating in endurance events. Two, atypical blood results were pretty typical for him. He'd routinely logged a low white blood cell count for about a decade. He'd even been sent to a hematologist to get it checked out once before, but nothing came of it. 
Glass figured he was in for the same drill this time. What he hadn't realized, however, was that it wasn't a low count but the relative makeup of the five different types of white blood cells in his sample that was cause for alarm.
"[The hematologist] showed me the breakdown, and my lymphocytes were off the charts," says Glass. "They had never been that way before."
After a bone marrow biopsy that December came another surprise: the type of blood cancer Brad had. It was not a familiar one like chronic lymphocytic leukemia (CLL), which his mother had been diagnosed with 16 years earlier, but a very rare form called large granular lymphocyte (LGL) leukemia. Because of this rarity, Brad's hematologist in New York initially recommended that he seek more definitive pathology from Memorial Sloan Kettering Cancer Center, but Brad and Laura had another idea. As a former higher education faculty member, Laura knew how to do her research, and her investigations into LGL leukemia led her to the world's foremost expert on the disease: UVA's own Thomas P. Loughran, Jr., M.D., director of UVA Cancer Center.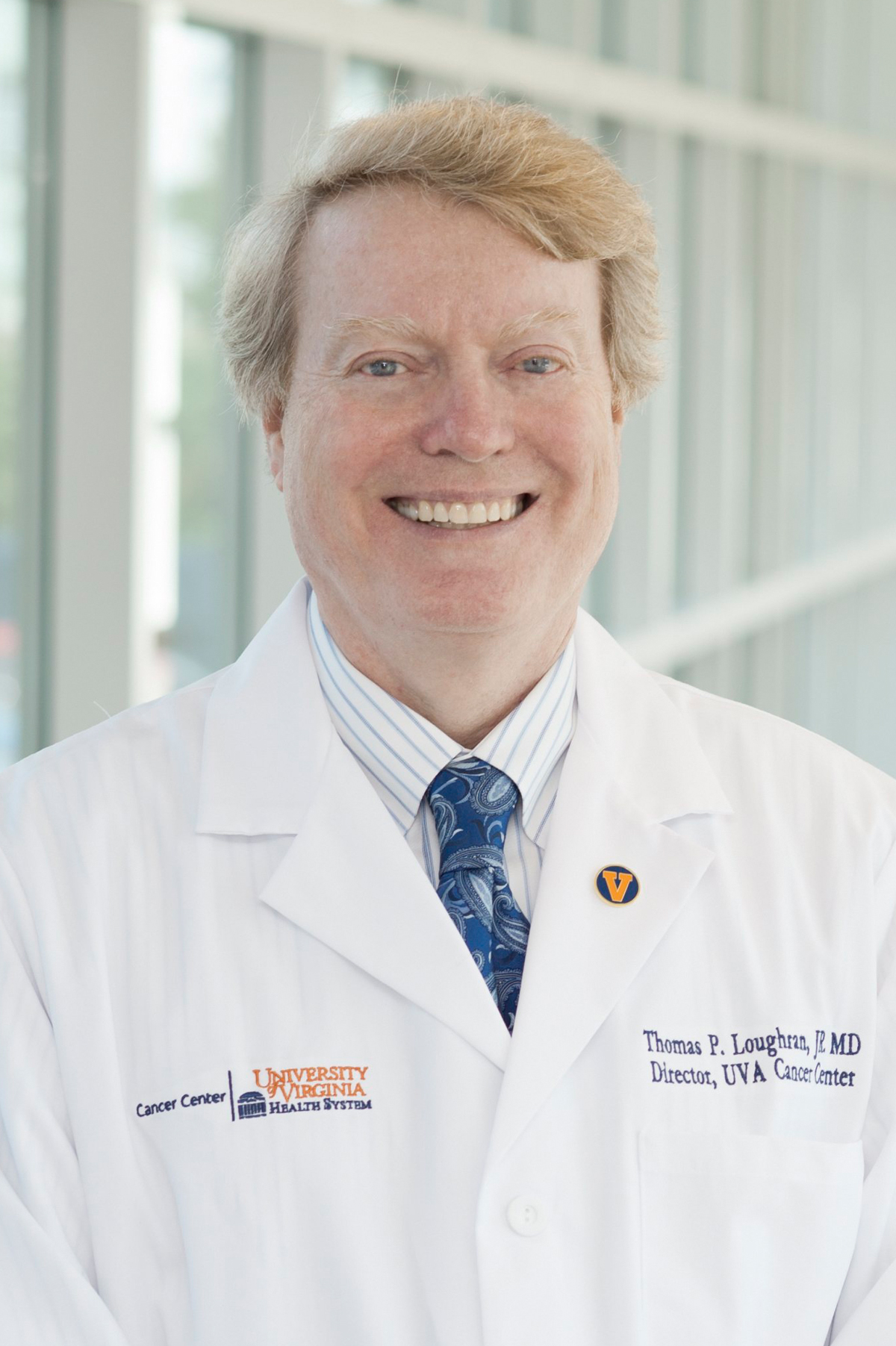 By March 2022, the Glasses were headed to Charlottesville, VA, for a second opinion and a consultation with Dr. Loughran. By April, they created UVA's first endowed fund for LGL leukemia research to empower UVA's cutting-edge fight against this incurable disease.
Support for Pioneering Research
Decades before coming to Virginia and helping UVA become one of the country's top cancer research, education, and treatment centers—the only one in Virginia to receive the National Cancer Institute's "comprehensive cancer center" designation—Dr. Loughran was a young physician-scientist working at the Fred Hutchinson Cancer Research Center in Seattle, WA. It was there that he discovered LGL leukemia—a chronic condition characterized by too many LGLs in the blood. The disease is so rare—fewer than 1,000 cases in the U.S. per year—that it's often missed or misdiagnosed. While there is no cure, many patients can manage the condition with immunosuppressant therapies, and UVA offers some of the best care and treatment options as well as clinical trials for acute, therapy-resistant forms of the disease.
Most of what we know about LGL leukemia and how to treat it are thanks to Dr. Loughran and the LGL Leukemia Registry he founded more than 30 years ago—the only national database and blood and tissue bank of specimens from patients with LGL leukemia. The registry collects critical information that researchers like David Feith, Ph.D., director of Dr. Loughran's lab at UVA, need to better understand and develop therapies for LGL leukemia through translational research and clinical trials. UVA's innovative LGL research includes genetic analysis, comprehensive whole-genome sequencing, and important collaborative initiatives with researchers of other blood cancers.
Endowing Hope
Dr. Loughran confirmed Brad's diagnosis and advised him on a careful monitoring strategy. A wait-and-see approach is not uncommon for patients like him who are otherwise healthy and not suffering from symptoms or associated conditions of LGL leukemia, which may include anemia, neutropenia, frequent infections, rheumatoid arthritis, or an enlarged spleen. Dr. Loughran assured Brad that his diagnosis shouldn't affect his life expectancy or quality of life. He would just have to manage the disease when and if treatment became necessary and be a little more careful about getting sick.
For the time being, then, there isn't much the Glasses can do to address Brad's leukemia directly. Still, they felt compelled to do something beyond Brad's donation of two extra pints of blood to the LGL registry. In addition to honoring Dr. Loughran and the team at UVA Cancer Center in gratitude for the quality of care they received, Brad says his diagnosis motivated the couple to formalize plans for their estate and charitable bequests. The more he and Laura read about LGL leukemia and how rare it is, and the more they thought about the funding challenges for studying rare diseases—"because there isn't as much bang for the buck in terms of patients affected"—the more he says a significant gift to UVA's LGL leukemia research program became an obvious choice.
"We wanted to give something to Dr. Loughran and his world-class program. Not many places are studying LGL, and UVA has a great team and infrastructure. We knew they could really benefit from a gift," says Brad.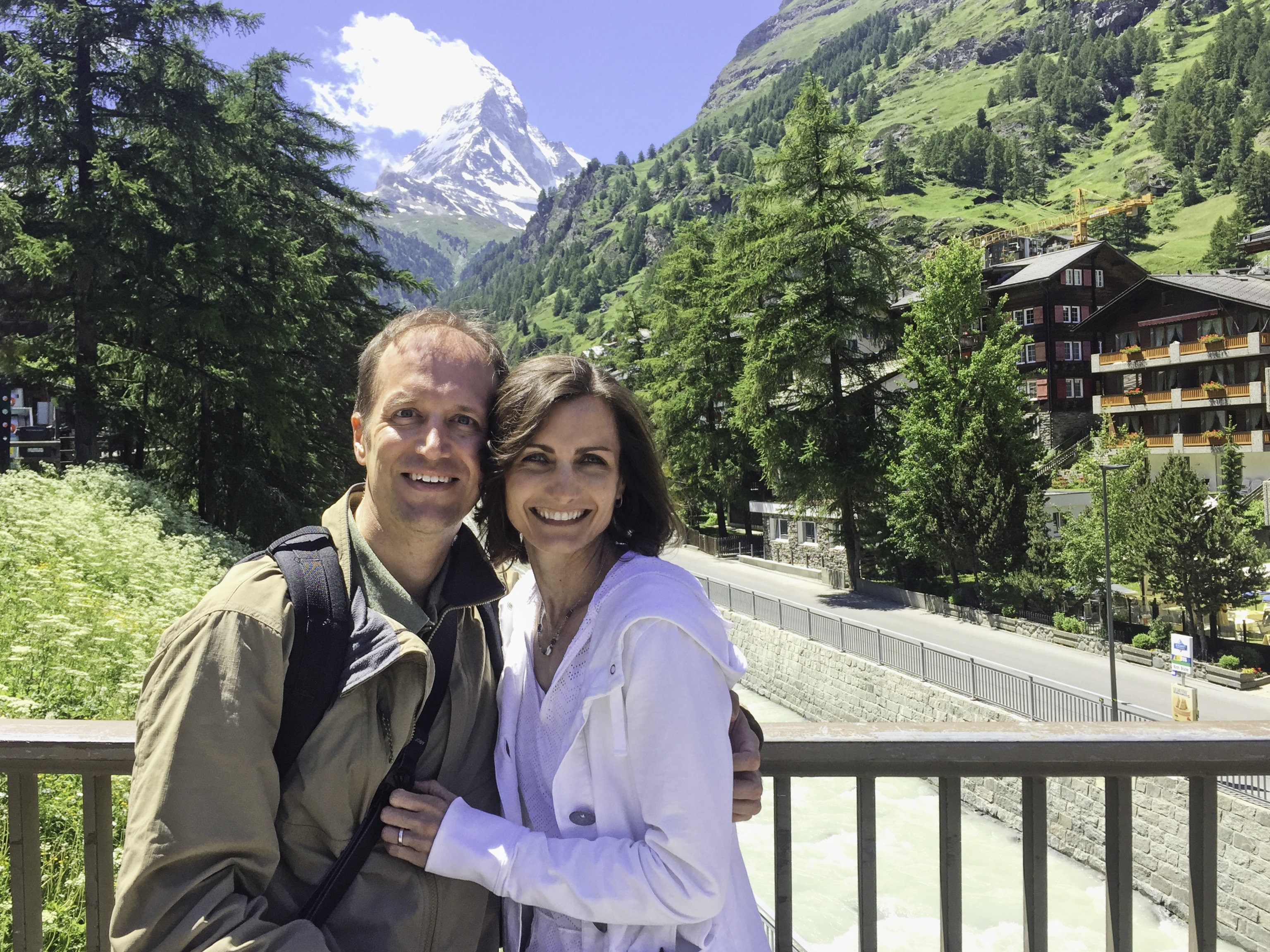 The Glasses pledged $100,000 over the next five years to create the endowed fund to support "research focused on the understanding, treatment, and/or cure of LGL leukemia." They have also bequeathed a majority of their estate to the endowed fund to further support UVA's LGL leukemia research program.
"We are so appreciative of the generous gift from the Glasses," says Dr. Loughran. "This amount of sustained funding will allow us to pursue new ideas and innovative research that may not be mature enough yet to secure federal grant awards."
Laura says she's excited that the endowment will create a sustainable source of support for UVA's vital, pre-clinical research, which is expensive, time-consuming, and dependent on private philanthropy. Through her journey with Brad's diagnosis, she learned that it's the data generated by these early-stage experiments that enables Dr. Loughran's lab to pursue federal and foundation grants for large-scale clinical trials—the kind that yield new treatments that benefit patients.  
"UVA has such a great running start on this," says Laura. "They have the wealth of knowledge from Dr. Loughran as the person who discovered the disease and such a great team of knowledgeable staff—but they need support to get to the next level, to do the experiments that they want to do and the ones that could help them get larger grants."
Estate gifts like the Glasses' generate membership in UVA's Cornerstone Society, but the couple isn't much for accolades. They didn't want their name on the endowed fund and initially wanted to remain anonymous. In fact, Brad says he hates the spotlight, but he and Laura agreed to share their story and their gift because they thought it would help other people connect with the fund's potential impact and feel good about contributing to it.
A Bright Future
A few stressful months after Brad first learned something was "off," he and Laura are relatively back to normal save for having to get his blood checked every three months. In the meantime, their fund is already building a legacy and giving hope not just to Brad in his lifetime, but also to patients with rare blood cancers like him well into the future.
This article was authored by Katherine Ludwig.