Consolidated UVA Breast Care Center Opens Doors
The new center takes convenience, comfort, and care to a higher level to serve patients better.
Christi Sheffield was all smiles as her colleagues cut the ribbon to open UVA Health's new Breast Care Center.
The new space, she says, is what's possible when you blend best-in-class care, groundbreaking research, and robust support services in one location. "Our specialists are excited to see patients in the new clinic, which is full of natural light and comfortable spaces," says Sheffield, director of clinical operations for UVA Community Oncology.
The ability for patients to see their entire care team in a single clinic appointment will make doctor visits easier for patients, says Sheffield. "For many years our patients received care in multiple locations, but there's nothing better from a patient-centered perspective than to offer all of those resources in one place," she says. The 18,500-square-foot center is just off Interstate 64 and U.S. 250, with free parking available right outside the center's entrance.
Patients meet with their entire care team in a single clinic appointment, including:
surgical, medical, and radiation oncology
physical medicine and rehabilitation
genetics, plastic surgery, and radiology
Dr. Thomas P. Loughran, director of the Cancer Center, says the UVA team wants to ensure they are providing the best patient experience and creating an environment that allows experts to do what they do best. One of those experts is Dr. Shayna Showalter, director of the UVA Breast Care Program, who says the new center improves collaboration among doctors.
"We often collaborate on patient cases, but we typically do that by phone or text when we're not in the same building," says Showalter. "Bringing us all together allows these discussions to take place face-to-face, better facilitating conversations about the best approaches to care for each patient."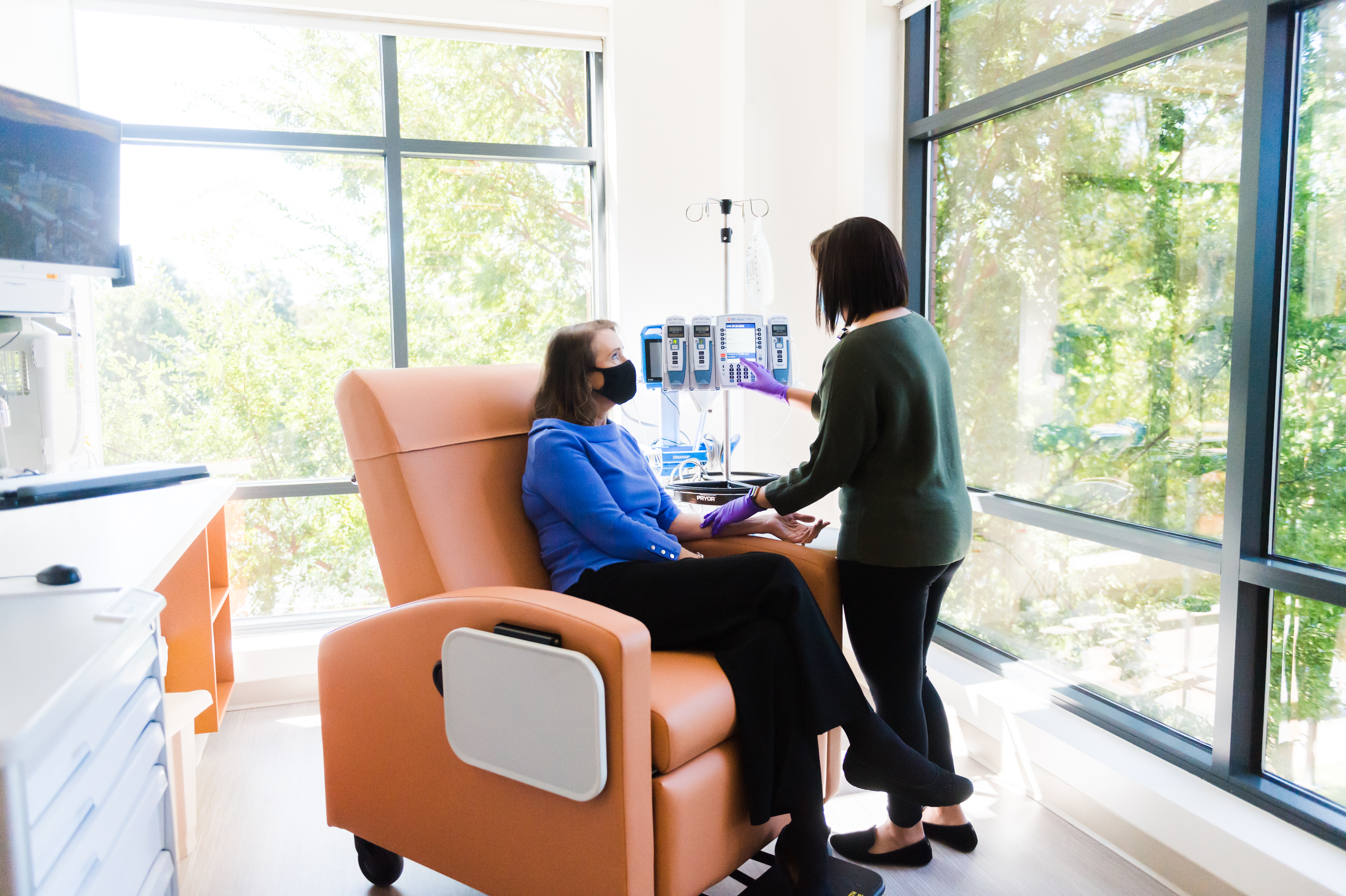 Because UVA Health is an academic medical center, those approaches are often the result of research being conducted in Charlottesville. For example, UVA's cancer specialists conduct groundbreaking research in areas such as focused ultrasound, immunotherapy, and precision breast IORT (interoperative radiation therapy)—an alternative to standard radiation therapy developed by Showalter for patients with early-stage breast cancer. Currently in clinical trials, the procedure reduces radiation treatment time from four to six weeks to a single day, allowing patients to return to their lives sooner.
The new center's services include:
full range of breast imaging and bone density scanning
infusion treatments
lab testing
clinical trials
prescription delivery from the pharmacy
Breast cancer care is an integral part of UVA Cancer Center, which ranks among the top 10 percent of cancer centers across the United States.
While the center will house the Breast Surgery Clinic pre- and post-operative care, surgeries will still take place in the UVA Medical Center operating rooms. The center also will offer lymphedema and cancer survivorship clinics, supportive care services, and an outpost of the Flourish boutique, which helps patients facing cancer look and feel their best.
The new center's goal, says Loughran, is to meet the patient where they are in their cancer journey physically, medically, and emotionally. "The immense generosity of our friends and grateful patients helps make this possible," says Loughran. "Whether it's a novel treatment or the yoga and art therapy options that ease the burden of cancer, we couldn't be more grateful and inspired for the support that allows us to provide these meaningful resources to our patients and families."
Below: UVA Cancer Center physicians and administrators share their vision and excitement for the new Breast Care Center in this recorded webinar.