The Doctor is in the House
Pediatric house calls protect most vulnerable patients
As the worldwide COVID-19 pandemic ushers in an era of social distancing, protecting the people who are most susceptible to the virus is critical. For parents like Lindsey and Joshua Gelfand, having a UVA pediatrician who makes house calls to care for their son, Benjamin—who has Down syndrome, heart problems and other health concerns—brings peace of mind.
"Benjamin is immunocompromised, so having a doctor who's able to come into our house to check him out when he's sick is extremely helpful," Joshua says. "We've waited in emergency rooms for really long stretches, sitting with people who are already sick. The last thing we want is for Benjamin to get sicker. Having the doctor come into our home provides an extra barrier of protection."
The couple learned about By Your Side Pediatrics shortly after Benjamin's birth, while he was in the neonatal intensive care unit (NICU) at UVA Medical Center. This UVA Children's clinic guides parents in making critical health care decisions and connects parents with UVA specialists as needed.
"By Your Side Pediatrics is the perfect name for this clinic because they are literally by your side," Lindsey says. "They're always accessible, and they work closely with other pediatric specialists at UVA Children's."
Nearly half of By Your Side Pediatrics' patients have complex medical needs, including tracheostomy, G-tube feeding and home oxygen, and ventilator support. The clinic also cares for children with typical medical needs, providing services such as newborn care during the first month at home, breastfeeding support, comprehensive asthma care, flu and strep throat diagnoses, immunizations, and support for sleep issues.
"For children with a lot of medical equipment, or for those with a high fever who should not be around others, it's a lot easier for us to go out to their homes than it is for their parents to bring them into the clinic," says Ina Stephens, MD, co-founder and co-director of By Your Side Pediatrics. "For children who need to see multiple specialists, we can help coordinate their care or help them access medical equipment such as a home hospital bed or services such as speech therapy."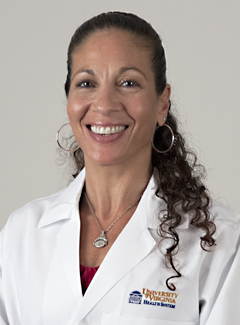 UVA Health
By seeing patients in their own homes, Stephens and her colleagues can get a clearer picture of their living situations and family dynamics. That allows pediatricians to offer advice and suggestions that likely wouldn't come up in a routine visit to a doctor's office.
Since it launched seven years ago, By Your Side Pediatrics has grown to include four physicians who see children within a half-hour to one-hour drive away from Charlottesville. Many families have learned about the clinic through word-of-mouth, and the clinic also has received referrals from other doctors.
"We often act as a bridge for other pediatricians to help coordinate their patients' care with specialists," says Stephens, an infectious disease expert who is also a certified personal trainer with the National Academy of Sports Medicine, a certified yoga therapist, and a certified yoga teacher who founded and directs the Medical Yoga and Integrative Health Clinic at UVA Children's. She uses yoga practices, mindfulness techniques, and breathing exercises to help children with chronic pain, anxiety, or depression.
Stephens has spoken about the By Your Side Pediatrics model of care at various conferences throughout the country, hoping other medical centers might follow this example. She has seen the difference that this approach to care can make for patients and their families.
"As doctors going into our patients' homes, we really get closer to these families than we would if we only saw these children in our offices," says Stephens. "My patients and their families trust me, and I have a great relationship with them. It's been very satisfying for me as a physician, and I really believe it has also been satisfying for the parents."
The Gelfands certainly appreciate the clinic. After Joshua graduated from the UVA Darden Graduate School of Business in May 2016, the family moved to Seattle, near Lindsey's hometown in the suburbs, to be closer to family and friends. Two years of frustration with navigating a large and disjointed health care system drove their decision to return to Charlottesville in November 2018. They are thrilled to have Dr. Stephens caring for Benjamin and his younger brother Tate, two. A third baby will join the family this spring.
"Ben has lots of medical complexities, and he sees numerous specialists," Lindsey says. "When you're seeing doctors that are siloed, you're just not getting consistent, comprehensive care. The doctors in Seattle were focused just on his condition, but that's what By Your Side Pediatrics does so well.
"Every time Dr. Stephens comes to the house, Benjamin gives her a big hug—she's wonderful. I really can't say enough good things other than that we left our entire family and support system—that should speak volumes to how we feel about By Your Side Pediatrics and Dr. Stephens."