Helping Kids Hear the People They Love
Patient Hannah Lipscomb pays it forward with her Get Involved fundraiser.
Imagine the din of a crowded elementary school cafeteria—the high-pitched squeals of little ones socializing after a busy morning of learning, the intermittent squeak of chairs on linoleum, the crinkling of wrappers and clanging of trays, the low-pitched admonishments from adults managing the chaos. For many, this is the nostalgic background noise of childhood, but for kids with hearing impairment, the cacophony can be deafening if not disorienting. That's because hearing loss is not just about volume; it affects directional hearing, the ability to hear in the presence of background noise, and many other complexities involved in accurately interpreting the source and substance of sounds in our environment.
Eleven-year-old Hannah Lipscomb from Richmond, VA, knows all about it. In 2014 she was diagnosed with sensorineural hearing loss, with progressive deterioration of her hearing in both ears. Now she's raising funds to help kids like her through UVA Health's Get Involved platform, which enables individuals to create their own giving pages in honor of patients, doctors, research, or other causes at UVA Health.
Hannah's Hearing Journey
Hannah was fitted with her first pair of hearing aids at three years old. Eventually, the hearing in Hannah's right ear declined to the point where a hearing aid was insufficient, and she became a candidate for and successfully received a cochlear implant at UVA in June 2020 from Dr. Bradley W. Kesser, professor and vice chair of the department of Otolaryngology—Head and Neck Surgery. Rather than amplifying natural (acoustic) hearing like a hearing aid, a cochlear implant stimulates the auditory nerve electronically. After the procedure, Hannah's family was able to upgrade her left hearing aid to one that would better sync the acoustic signals picked up in her left ear with the electronic signals coming from the implant on the right.
Dr. Kesser says Hannah has adjusted "extraordinarily well" to the implant, which involves a lot of hard work and a commitment from both patients and parents during a challenging period of brain retraining. Hannah's brain had to learn to interpret the signal from the cochlear implant, integrate it with the acoustic signal from the hearing aid on the other side, and convert both inputs into meaningful words and language, says Dr. Kesser. It's a process he describes as "amazing, miraculous even."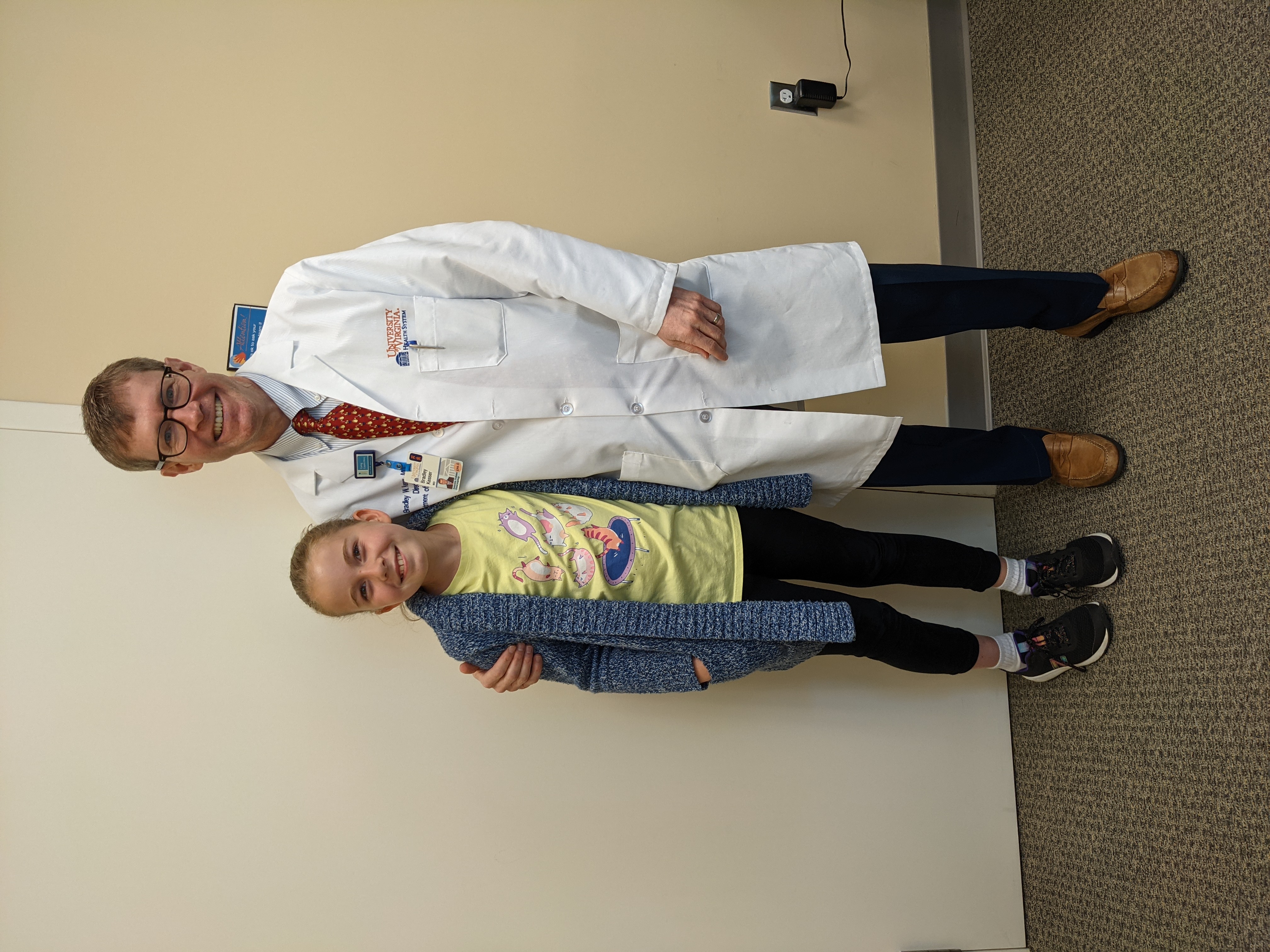 Hannah and Dr. Kesser, Aug. 2021
Hannah is definitely thriving—whether it's in Chinese or robotics class, learning American Sign Language online with her dad, hanging out with her older sister, Sophie, or managing a hugely successful hearing aid fundraiser. Her mom, Aubrey Lipscomb, says Hannah's social confidence has come a long way too, explaining that Hannah would often take a book to school to read during lunch period rather than struggle to converse with friends at a noisy table.
Quiet(er) classroom environments are a bit easier to manage, in part because Hannah relies on an additional sound system that pairs a Bluetooth microphone worn by her teachers with her hearing devices. Many public school districts loan personal FM systems and similar assistive technology to kids with hearing impairments, but demand far exceeds supply. And hearing aids themselves? That's a kicker. Unlike corrective eye glasses for vision impairment, most insurance companies won't cover the cost of hearing aids because they aren't considered a medical necessity. Although the Commonwealth of Virginia does cover hearing aids for qualified Medicaid recipients (and some health insurers are beginning to cover them in certain situations), many low- and middle-income families are forced to pay out of pocket and can't afford the high cost: $1000+ for a single hearing aid.
There is reason to believe economic factors or federal action may bring down the cost of hearing aids in the near future. In the meantime, Hannah wants kids like her to have access to the tools they need to fully participate in the hearing world. That's why in June 2021, with the support and encouragement of Dr. Kesser, she launched her fundraiser with a goal of raising $20,000 to help approximately 20 children in need of hearing devices. She surpassed that target in March 2022 and raised her goal to $40,000!
Paying It Forward
It all started with a desire to honor Dr. Kesser. "We wanted to make a contribution because we were so happy with the results of the surgery and Dr. Kesser's bedside manner, the way he connected with Hannah," says David Lipscomb, Hannah's dad. "He made sure she was central to the decision [for the cochlear implant] and the process."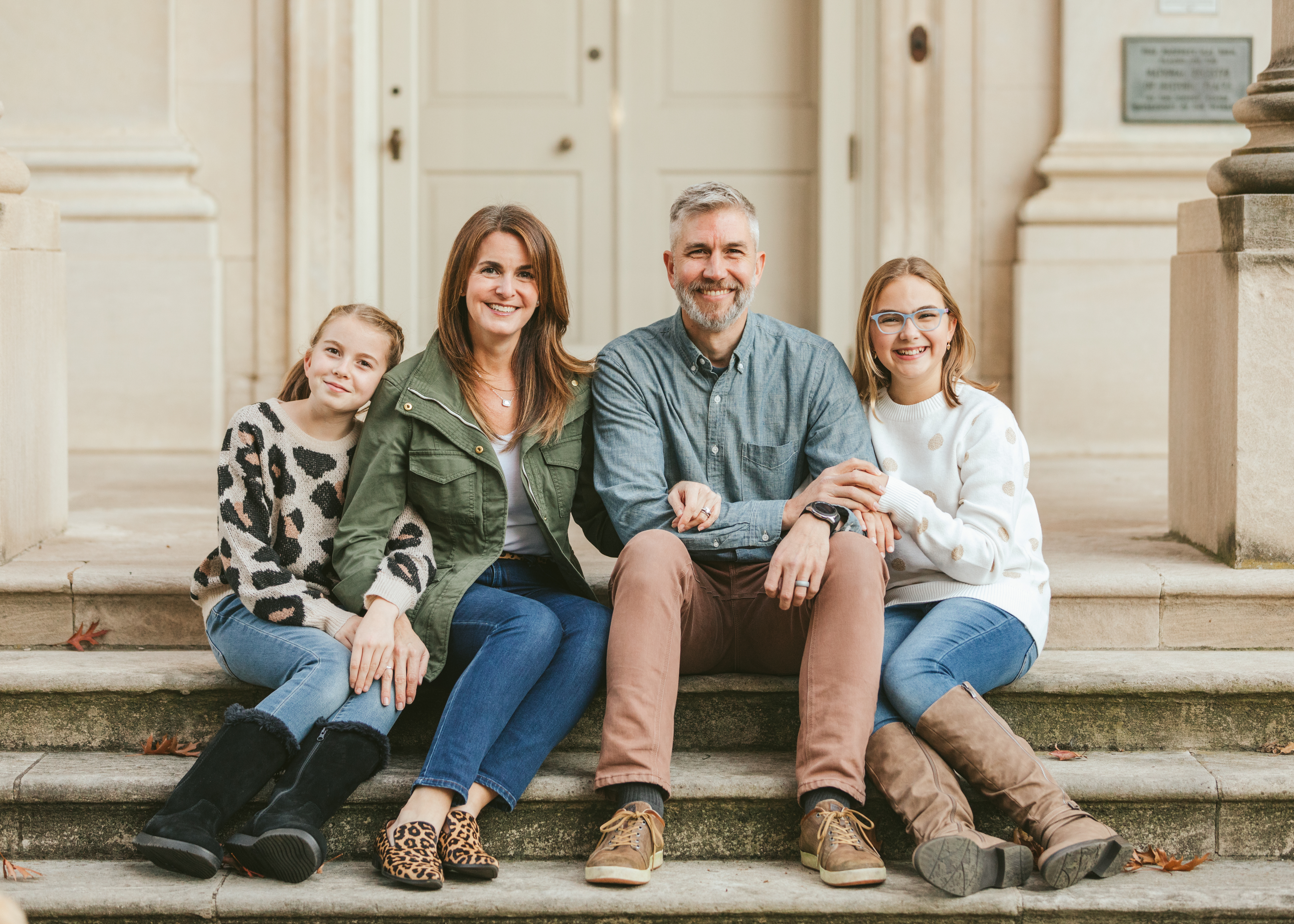 https://getinvolved.uvahealth.org/campaign/get-involved/c410982The Lipscomb family considered several possibilities to show their gratitude, including donating to Dr. Kesser's research fund at UVA. In exploring their options, they learned that few local resources exist to help families unable to afford hearing aids for their kids. That, coupled with a chance to get her school behind a charitable project, led Hannah to the idea for her Get Involved fundraiser. Hannah says, "I just keep reminding myself what it would be like if you couldn't hear the people that you love."
"This project was the perfect fit for Hannah's vision of helping others," says Dr. Kesser, who explains that for most children with mild to moderate to severe hearing loss, hearing aids are still the best rehabilitative option. And time is of the essence. There is a critical period—between birth and the age of seven or eight—for speech and language development in the brain, says Dr. Kesser. Hearing and understanding spoken language is a significant part of that development, meaning young children with hearing impairment face a substantial challenge to building receptive and expressive language ability.
A Grateful Patient and a Dedicated Doctor
Hannah, Dr. Kesser, and UVA audiologist Melissa McNichol make a great team and are working together to identify recipients of the funds through UVA Health. Their rapport is not surprising considering that Hannah did extensive due diligence—interviewing several surgeons in Virginia before selecting Dr. Kesser to do her cochlear implant procedure. "He was different from other doctors," says Hannah. "They would ask Mom or Dad how I was doing or what I needed, but he talked to me specifically and asked about my opinions."
 "Dr. Kesser has been incredibly supportive," says Hannah's mom. For example, she says that when the grateful family of another of Dr. Kesser's young patients wanted to honor him with a donation to his favorite charity, Dr. Kesser directed them to Hannah.
"I felt so honored that he recommended us," says Hannah, who exceeded her initial $20,000 fundraising goal when that donor contributed $5,000—enough to help five more children.
"This is such a great feel-good story about how philanthropy directly impacts patients' lives, says Dr. Kesser. "A lot of times people will give, but they don't exactly know where the funds go. With hearing aids and assistive listening technology, coupled with the ability to help children, that's a truly meaningful project and certainly resonates with Hannah and her family."
If stories like Hannah's resonate with you, consider supporting her and patients like her through the Get Involved platform or by making a gift to UVA Health.
This article was authored by Katherine Ludwig.