Lines of Hope
A $1.3 million gift to pancreatic cancer research honors the late Thomas F. Farrell II, a UVA alumnus and former rector of the Board of Visitors.
Pancreatic cancer is on course to become the second leading cause of cancer deaths in the U.S. Most pancreatic cancers develop without any detectable precancerous lesion. Due to aggressive growth and the lack of symptoms early on, 85% of patients are not treatable with surgery by the time their cancer is detected. Current chemotherapy options have limited success in these patients, and survival is typically 3–9 months. New treatments are greatly needed for all patients with pancreatic cancer.
Hope for a cure is the goal, but in the meantime, cancer programs that lead to novel research and therapies that add cherished months—time to spend with family, bounce a grandchild on a knee, or play a round of golf on a warm spring day—can be enough.
When Thomas F. Farrell II (Col '76, Law '79) was diagnosed with pancreatic cancer in 2020, he began treatment at other respected medical institutions but eventually decided to come to the UVA Cancer Center. Farrell, who lived in Richmond, was the executive chairman of Dominion Energy at the time of his death. He had a deep, years-long connection to UVA through service and family. He served on the Board of Visitors from 2001 to 2009 and was the rector from 2005 to 2007. His wife, Anne Garland (Ed '77), sons Peter (Col '06) and Stuart (McIntire '07), daughter-in-law, Mary Farrell (Col '07), and brother Timothy (Col '78) all attended the University.
"We're always going to be very thankful for the respect and dignity and care they gave him," said his son, Peter, of their family's experience at the Cancer Center. "And the best part about it is, it's the kind of care they give to everybody."
Exceptional patient care has long been a hallmark of UVA Cancer Center. In 2021, it earned a prestigious designation from the National Cancer Institute as a Comprehensive Cancer Center, moving it into an elite group of 54 of the most outstanding cancer programs in the nation. It is the first Comprehensive Cancer Center in Virginia. Part of that designation requires a robust, innovative research program. As the Farrell family discovered, UVA is conducting some of the most exciting and promising pancreatic cancer research in the country.
The Farrells decided to make a $1.3 million gift to support and expand that research.
"When you have a good foundation to begin with and you can help provide more resources, it only compounds," said Peter Farrell.
Peter worked with his uncle, Tim, to combine two family funds to maximize their giving potential.
Tim Farrell said, "I approached my nephews Peter and Stuart with the idea that if you guys gave a certain amount and I give a certain amount, we could pull the money together and do something much more meaningful," he said.
Peter added that when his uncle initially brought up the idea, the family investigated donating to other cancer centers before discovering the truly interesting pancreatic cancer research happening at UVA.
"Unfortunately, when you have a family member who has cancer, everybody in the family becomes an amateur cancer researcher almost overnight," Peter Farrell said. "We soon realized that UVA had some good pancreatic cancer research. We knew then that we wanted to do something for UVA, especially given how they were so good to dad at the end of his life."
The Farrell family will conduct a yearly review to fine tune the levels of support for the exciting research programs at UVA. A big portion of the initial funding from the Farrells' gift will support work in the lab of Todd Bauer, MD, chief of the division of surgical oncology and a leading researcher of pancreatic cancer. Two other investigators who are doing novel work in pancreatic cancer at UVA will be funded as well.
Kimberly A. Kelly, PhD, a biomedical engineering professor at UVA's School of Engineering and Applied Science, is developing a drug called ZB131, an antibody designed to target a protein called plectin found on the surface of multiple types of cancer cells. She and her team at ZeilBio, Inc, the corporate offshoot of her research, have moved this potential cure for pancreatic cancer into human clinical trials.
In the Cancer Center, Dr. Larry Lum and his colleagues are developing alternative treatments that empower human immune systems to recognize and destroy cancer. Dr. Lum's method of immunotherapy enlists T cells to attack cancers by redirecting their killing potential and linking two antibodies to create a bispecific antibody that binds to both T cells and tumor cells. Infusions of the targeted T cells kill tumors and release proteins that vaccinate patients against their own cancer.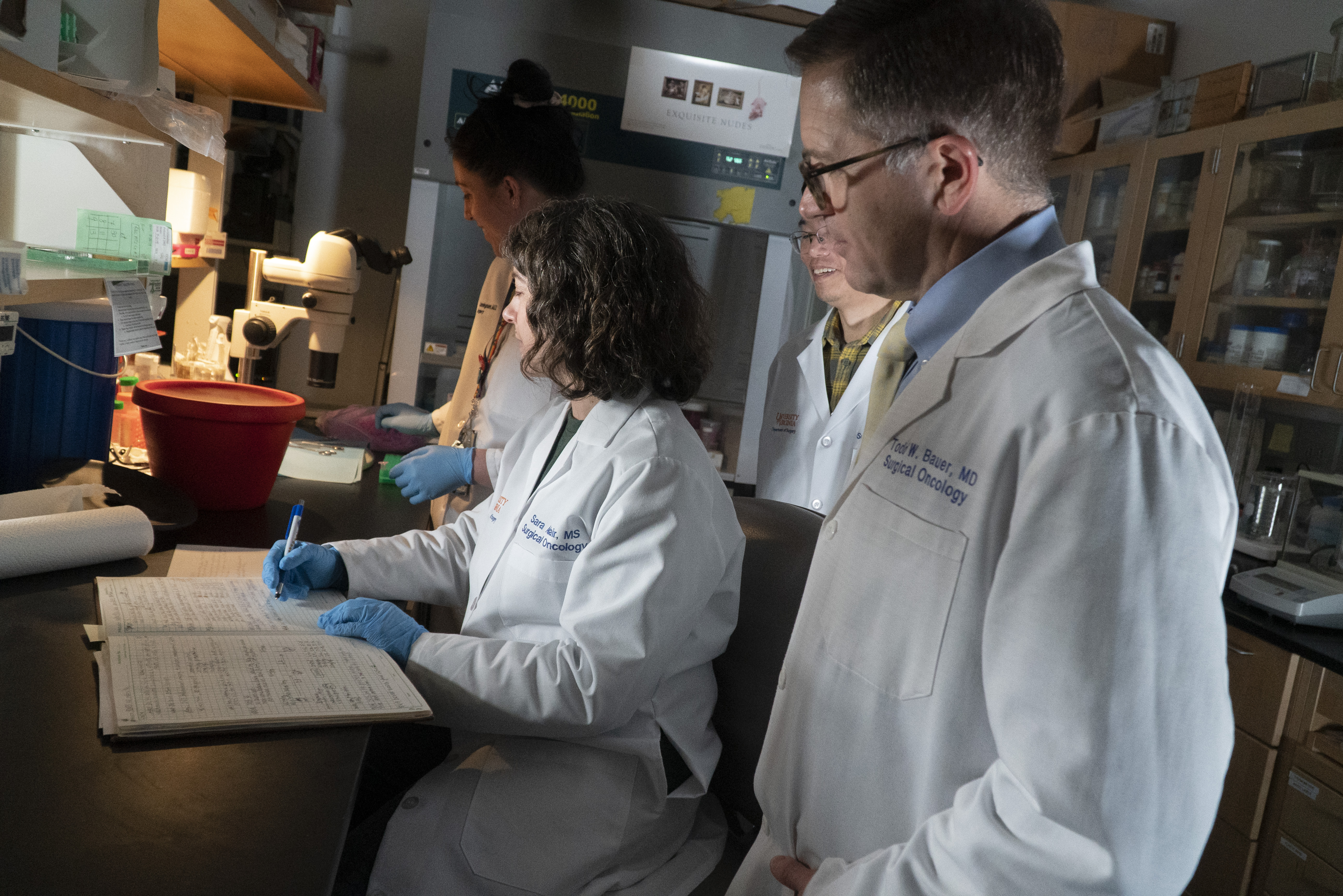 Groundbreaking Work and Exciting Possibilities at UVA
As a surgeon and a researcher, Dr. Bauer is positioned to attack the disease from clinical and scientific angles. In 2013, he started the UVA High-Risk Pancreatic Cancer Clinic, a unique clinic developed to identify patients at high risk for cancer and then carefully monitor them with MRI and endoscopic ultrasound. The clinic serves patients with a strong family history of pancreatic cancer and patients with a precancerous cyst called a neoplastic cyst.
"If we know they're at increased risk for developing pancreatic cancer and can identify it early, we can offer them potentially curative surgery," said Dr. Bauer.
In addition to his clinical duties, Dr. Bauer spends about half his time leading a research laboratory that studies pancreatic cancer to develop new treatments for patients. He's currently pursuing two promising lines of study.
"Since starting the lab 18 years ago, what became apparent to us was that we needed to study in the lab a model system that would closely translate to the patients we were taking care of," he said.
"Based on evidence that was out there in the scientific community, we decided that after we removed their cancer and finished studying the tumor in pathology, instead of discarding the tumor, with their consent, we would take that tumor and implant it into mice. This would allow us to study real human pancreatic cancers, and what we learned from those tumors would be much more translatable to patient care."
Dr. Bauer explained that every one of the patients he sees has a genetically unique cancer of the pancreas. What he's developed, using the mouse model, is a human pancreatic cancer tissue bank. By improving preclinical model systems, he's doing work that is crucial to identifying therapies that could translate into success in the clinic.
"There's the whole seed and soil hypothesis to cancer," he said. "If the cancer cells are the seeds, but the behavior of that seed, the cancer cell, is dependent upon the soil it's growing in or the organ or tissue it's growing in, the best way to study the behavior of pancreatic cancers is to put those cells into the mouse pancreas. Since we started that model, we have now collected about 30 different cancers from different patients, and we can study these genetically unique tumors and understand that they behave differently. The genes and the molecular pathways that drive tumor growth will differ from patient to patient. That's an incredibly powerful thing to be able to do."
Dr. Bauer is also busy identifying novel therapies with single-cell sequencing and another powerful genetic tool called CRISPR. Single-cell sequencing is cutting-edge technology that allows his lab to study the genes that are activated in individual cells in a tumor. "We can simultaneously study both the cancer cells and the other microenvironment cells surrounding the tumor, such as blood vessels, pancreatic cells, liver cells, and immune cells," he explained. "Integration of this highly technical work and analysis by data science experts at UVA provides us with a map of the interaction between the tumor cells and microenvironment cells that drives tumor growth and metastasis."
CRISPR technology enables researchers to turn off genes and identify the effect on pancreatic cancer growth. This can be done one gene at a time for all cells or by targeting up to 5,000 different genes simultaneously (one gene only per cell in millions of cells). "Using this CRISPR screening technique, we have identified several new genes that may play a critical role in pancreatic cancer growth and metastasis," said Dr. Bauer.
"We are currently testing the role of genes in tumor cells and in the microenvironment of the pancreas and the liver, which is the leading site of metastasis. We predict that the combination of single-cell sequencing and CRISPR screening and complex data analysis methods will identify novel treatments for pancreatic cancer," he said.
Dr. Bauer's lab was one of the first to conduct this type of research, and he believes it's uniquely positioned to advance understanding of pancreatic cancer. "We are one of a handful across the country that has the capability of doing this research," he said. "We've been able to recruit other researchers into different departments in engineering and microbiology so that we've started to build a community of researchers interested in pancreatic cancer. One person will be a metabolism expert, and another a bioengineering expert. Now that we've recruited more and more people, other researchers who had not historically studied pancreatic cancer, we have a sort of momentum. It's enabled us to grow the overarching pancreatic cancer program here at UVA in terms of different laboratories attacking the scientific question from different angles."
Success Breeds Success
Dr. Bauer is grateful for support from the Farrell family, which provides a crucial bridge to other funding sources. "This type of philanthropic support allows us to take a great idea, get started on the project, and get some exciting results that lead us towards something new," he said. "Then we can apply for an NIH grant, and they can see that this is a great idea, and our preliminary findings support our hypothesis. Everybody wants to cheer for the winning team. It feels good to be part of a team that's going to make a difference."
Peter Farrell couldn't agree more. From 2012 to 2018, he served in the Virginia House of Delegates, representing the 56th district. "I was in the legislature for a while, so I know a bit about the ability of private dollars in helping to leverage public dollars," he said. "I hope that happens in this case. The biggest barrier to research is lack of money."
"I think dad would like what we're doing for a lot of reasons," he continued, "not only because it's UVA—and UVA meant the world to him—but also because it's good for people who live in Virginia, too. And I think he would have appreciated that. We want to help. We hope they can discover some new genetic information and new treatment options. That's what we're hoping for."
Authored by William Cocke
For more information on how to support pancreatic cancer research at UVA, please contact Corley Raileanu, Executive Director of Development, Cancer Programs, at corley@virginia.edu or 770.851.1904 or call 800.297.0102.