Local Golf Tournaments Celebrate Friendships and Hope
Funds Raised Benefit Ovarian Cancer Research, Awareness, and Patient Care
When Marty Whitlow was diagnosed with ovarian cancer in 2009, her friend, Dotty Bohannon, could only watch as Marty faced her diagnosis and treatment. But quickly, Marty began to look beyond her own illness. She wanted to set up a fund to help other patients like herself.

Marty, along with her family and friends, formed "Team Teal" and began to hold a series of events to raise money for ovarian cancer awareness and research at UVA Cancer Center.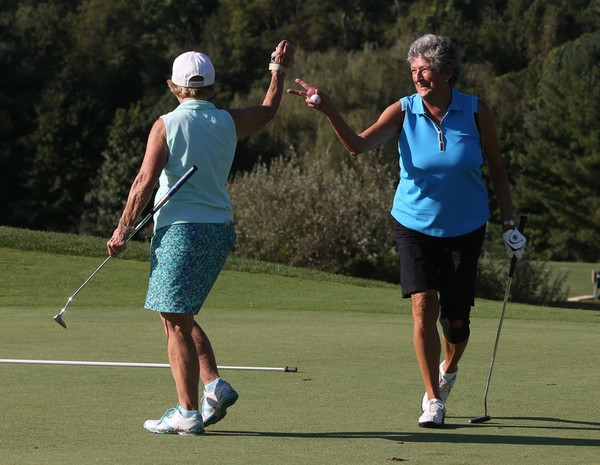 The Daily Progress
"In 2012, Marty was excited that her fund was approaching the $50,000 mark and that meant she could add her name to the donor wall at the Cancer Center," remembers Dotty. "Then she had a scare with her health. Many of her friends were concerned, but determined that she would see her name on that wall."

A golf lover and employee at Birdwood Golf Course, Dotty called on a small group of friends to join her for a tournament that would become known as Golf for Life. "This was something we could do to support Marty's fund and help raise awareness. We started with a small group of women playing nine holes. Now, we have a strong organizational team and we're up to 68 golfers playing 18 holes. The tournament expanded this year when a group from Glenmore rallied around one of their own battling ovarian cancer."

Even though Marty passed away in 2014, Golf for Life is still going strong, raising $13,000 this year and bringing Team Teal's total fundraising to almost $200,000. Funds support the Marty Whitlow Ovarian Cancer Research Fund, mobilizing the community around ovarian cancer awareness and promoting collaborations that make research possible—and keeping Marty's dream alive.

In the Shenandoah Valley, the popular Barb Winegord Ovarian Cancer Awareness Tournament, which raised $11,000 this year, is also a celebration of life.

"Barb was the sunshine," remembers Lisa Jenkins, Barb's sister-in-law and organizer of the tournament. "She lit up a room. There was no stopping her."

Started at first to help Barb pay for her treatments, the tournament continues on in her memory, easing the burden on patients and families by helping pay for meals, gas, and hotels. What's more, Barb and Marty's families have become friends. This year, teams from the two events crossed Afton Mountain to play in each other's tournament.

For ovarian cancer patients and their families at UVA, the dedication shown by the family and friends of two extraordinary women will touch the lives of countless others in meaningful ways— especially as the network of women battling this disease continues to grow. As more women are diagnosed with ovarian cancer, some will use these golf tournaments as a way to battle back.