Monitoring Vitals, Building Hope
A New App Platform Is Redefining In-Home Care for High-Risk Pediatric Patients
When pediatric cardiologist Jeff Vergales and pediatric cardiac nurse practitioner Leslie Peregoy see an iPad, they think of much more than checking their emails or reading the news. For them—and a steadily increasing number of parents at UVA Children's Hospital—iPads have become one of the most vital care and monitoring tools available.

Vergales has run the in-home monitoring program for pediatric cardiology patients at UVA for the past three years, and can have as many as 50 children per year from all over the Commonwealth under his careful watch. Most of the patients have high-risk, complex congenital heart disease, meaning they were born with a heart defect that requires intensive care, complex surgeries, and almost hourly monitoring since the day they were born.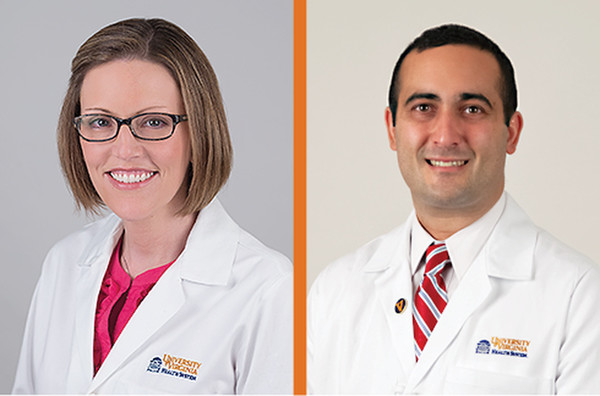 uvahealth.com
The first time parents are able to take their baby home from the hospital is an incredibly happy moment. However, for congenital heart families, that moment also brings stress and responsibility, as the team of doctors and nurses that has been providing 24/7 care is no longer there. This is where the Building HOPE app platform comes in.

Since March 2016, ten families whose kids have congenital heart issues have used Building HOPE to send vitals—such as oxygen levels, weight, and food and liquid intake data—through a secure transmission to their electronic medical records. These updates can then instantly be reviewed and analyzed by their care team at UVA. "We see data real-time, as if the patients were in the room next door," Vergales says. "It allows families to go home sooner, and also spend less time traveling to and from the hospital. For parents who live six, seven hours away, this makes a pretty significant impact."

Besides engaging parents and providing them with the comfort of knowing they can easily and securely communicate with their child's unique care team, the platform also allows doctors to identify and analyze trends in patients' vitals and predict and address an adverse event before it occurs.

"We become a team with the parents to manage their children's care through the highest risk portion of their life," Vergales explains. "Intensive home monitoring programs like ours have been able to reduce deaths associated with congenital heart defect patients from 25% to under 5%. It is our goal that the Building HOPE platform can streamline and improve the process for families making it even easier to improve outcomes further."
Now, every patient in the congenital heart home monitoring program is being sent home with a Building HOPE-enabled iPad.

Vergales and Peregoy had the idea for the platform in late spring of 2015, and worked with Broadaxe Care Coordination (now known as Locus Health) to develop the program over the course of the next year.

Building HOPE was made possible entirely through private philanthropy, using iPads that were previously donated to UVA Children's Hospital. The program is made available to patients at no cost. As Vergales and his team look to the future, they hope to make the technology available to other high-risk patient populations.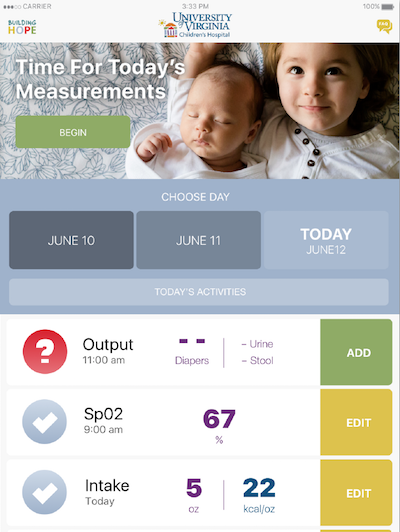 Locus Health
"NICU, transplant, and cancer patients are just a few examples of other high-risk populations that could benefit from the platform," Vergales says. "With continued private philanthropic support, this care-monitoring app can be adapted to help families and care teams across the entire UVA Health System."