New Hope for Breast Cancer Patients
Groundbreaking discovery may successfully combat triple-negative breast cancer
The question has plagued cancer researchers for decades: What causes a primary cancer tumor to become metastatic, or spread throughout the body? Investigator Sanchita Bhatnagar, PhD, and her team at UVA believe they may have the answer.
Bhatnagar, a member of UVA's Department of Biochemistry and Molecular Genetics, has identified a gene responsible for the spread of triple-negative breast cancer to other parts of the body. Blocking the effects of the gene, TRIM37, could benefit approximately 80 percent of triple-negative breast cancer patients, the researchers estimate. Triple-negative breast cancer is considered to be more aggressive and has a poorer prognosis than other types of breast cancer. More than 44,000 women die each year in the United States alone from the deadly disease.
The work is still in early stages, but the researchers are excited about its potential. They hope it can prevent or significantly delay metastasis of triple-negative breast cancer and lower its defenses against chemotherapy.
Bhatnagar partnered with UVA Cancer Center researcher Jogender Tushir-Singh, PhD, who also happens to be her husband, to develop their new approach, which uses nanoparticles—microscopic balls of fat—to target TRIM37. These nanoparticles are paired with specially engineered antibodies that bind to the cancerous cells but not to healthy cells.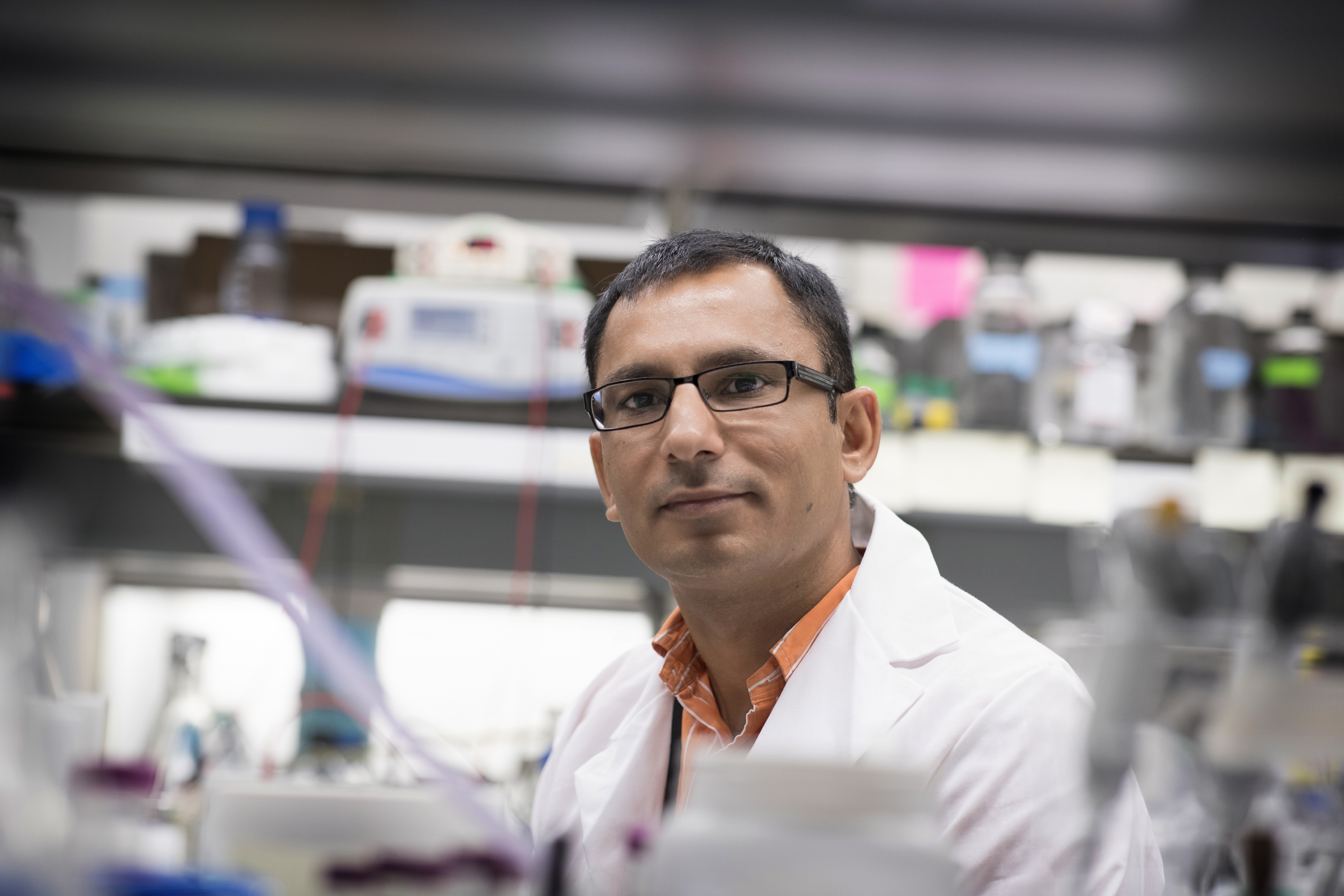 Bhatnagar hopes the approach will deliver the "kiss of death" to reduce the gene's expression in cancer cells. So far, early lab tests have offered encouraging results, and the new approach minimizes side effects from treatment.
Their work to date has also laid the foundation for an important new avenue of research—exploring racial disparities in triple-negative breast cancer.
"The incidence of triple-negative breast cancer in African American women is disproportionately high, with a five-year survival rate of only 14 percent compared with 36 percent in other races," Bhatnagar says. "While our targeting strategy is therapeutically relevant and benefits patients, the lab is also investigating TRIM37 as a biological component associated with the racial disparity in triple-negative breast cancer patients."
Private support is crucial to increase the speed of moving discoveries from the lab to meet patients' needs.
"Bench-to-clinic translation takes a long time, mainly because of the limitation of funds. We have received some federal funding, but it's not enough to carry out the studies necessary to move into human clinical trials," Bhatnagar explains. "The process of generating clinical quality material, in this case nanoparticles and antibodies, and initiate Phase 1 clinical trials are costly and time-consuming steps. Philanthropic funding will significantly accelerate our efforts and hasten the development of more effective treatments for triple-negative breast cancer."