Supporting Our Student Scientists
This fall, when UVA fourth-year Emma Imbarlina isn't working toward her B.S. in biomedical engineering, applying to graduate school, or cheering on the 'Hoos as a UVA cheerleader, she's likely heads-down in one of the University's most innovative cancer research laboratories, immersed in the science of focused ultrasound cancer immunotherapy. As the recipient of a Harrison Undergraduate Research Award—one of 43 granted this year—Imbarlina, a Pittsburgh native, had the opportunity to spend most of her summer in Charlottesville studying biomarkers of breast cancer under the mentorship of faculty advisor Natasha Sheybani, PhD, Assistant Professor of Biomedical Engineering and Research Director of UVA's Focused Ultrasound Cancer Immunotherapy Center.
Harrison Undergraduate Research Awards are made possible through the generosity of late UVA alum David A. Harrison III and his family. They are granted each spring to outstanding student applicants who propose a substantial research project to be pursued over the summer and following academic year under the supervision of a faculty mentor. Students receive up to $4,000 for travel expenses, summer living stipends, research supplies, and other project-related costs, and their faculty advisors receive an additional $1,000 in research support.
"Undergraduate research opportunities like this allow students to gain direct exposure to the concept of academic research and also cultivate first-hand experience in executing bench [laboratory] science," says Dr. Sheybani. The process of writing a research proposal and drafting a project budget to apply for the Harrison award is especially meaningful, she says. "This is a unique and deeply enriching experience that I wish I had back in my days as an undergraduate student!"
In addition to the invaluable opportunity to collaborate with top scholars in a real-world research context, the Harrison award gives these young students a chance to contribute vital data to their fields. In the case of Imbarlina and fellow fourth-year and 2022 Harrison awardee Priya Katyal, a human biology major, the results of their studies could yield important information in the search for life-saving cancer treatments.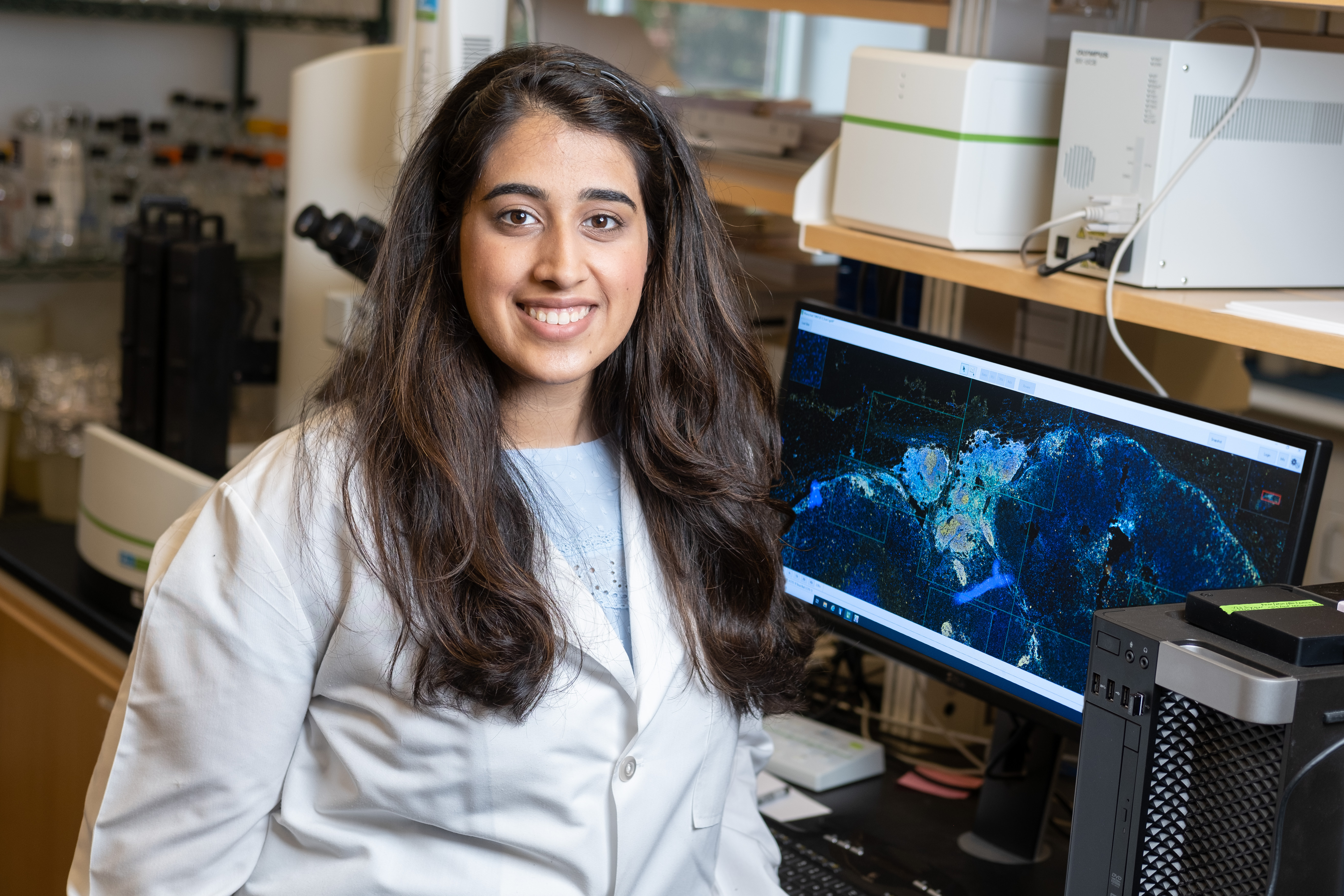 Real World Experience; Real World Impact
With a partner undergrad over the summer, Imbarlina treated samples of three different types of breast cancer cell lines with focused ultrasound (FUS)—a concentrated beam of high-frequency (ultrasonic) energy. FUS is an emerging, non-invasive medical therapy for precise treatment of tissue without the need for radiation or incision. In this case, Imbarlina used FUS to augment and study cancer-derived biomarkers associated with tumor-immune system interaction and disease progression and metastasis. She'll spend most of the fall semester analyzing the data.
"If we can characterize these tumor-derived biomarkers, we can use them to create treatment plans and even for diagnosis," says Imbarlina. "It's a lot of very basic research right now for hopefully some breakthroughs later on."
Like Imbarlina, Katyal's project is driven by UVA's leadership in cancer immunotherapy and the guidance of her faculty advisor, Ileana Mauldin, PhD, Assistant Professor in the Department of Surgery and Director of the Molecular Immunologic & Translational Sciences Core. Katyal is working with Dr. Mauldin in the lab of renowned surgical oncologist and cancer immunologist Craig L. Slingluff, Jr., MD, the Jesse Helms Farrow Professor of Surgery, Vice-Chair for Research in the Department of Surgery, and Director of the UVA Cancer Center Human Immune Therapy Center.
For her project, Katyal is researching biomarkers associated with anti-tumor immunity and immune invasion in different types of melanoma using multiplex-Immunofluorescence histology—a process in which a patient's tumor sample is stained to illuminate immune cells and markers of immune activity for study. These experiments and the data generated will contribute to future investigations of immune therapies that could be used to promote better tumor control and improve patient survival . [Learn more about Dr. Mauldin's pioneering work in cancer immunology here.]
Learning from the Best
Katyal and Imbarlina say that working with Drs. Mauldin and Sheybani and the other graduate, PhD, and post-doc students in their labs has been a highlight of their projects.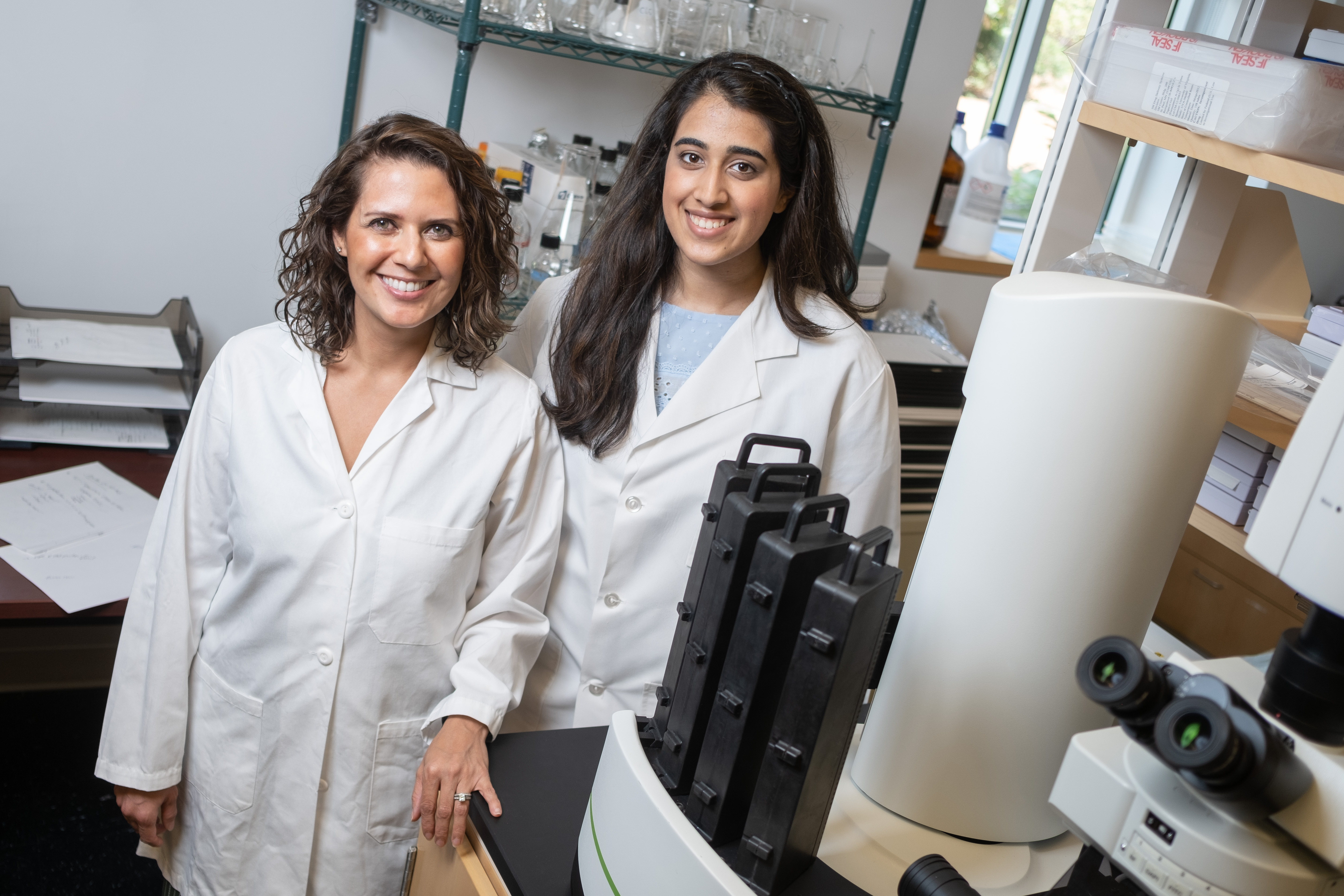 "We have bi-weekly meetings with Dr. Sheybani, which is really nice because she keeps us on track. She's really good at experimental design and making sure that we're thinking of everything we need to be thinking of, and the grad students are also super helpful, " says Imbarlina. "It's the best of both worlds. We're being mentored, and we're getting hands-on experience."
"Dr. Mauldin has been such a great mentor, teacher, and friend to me," says Katyal. I'm never embarrassed to ask her a question. She makes an effort to teach me as much as she can, which I am so grateful for."
Dr. Mauldin says that she enjoys teaching undergraduates like Katyal and exposing them to research. "Priya is very driven, and you can tell by her hard work, enthusiasm, and engagement that she really enjoys it. I hope she'll carry forth as a researcher," she says.
Dr. Sheybani shares similar sentiments about Imbarlina: "Emma has become an exemplar of positivity, determination, and resilience in the face of challenging experiments. I hope her research experience in our lab will serve as a meaningful catalyst for her continued growth and leadership in science."
Next Steps
Katyal and Imbarlina will present the results of their investigations at UVA's annual Undergraduate Research Symposium this spring. After graduation, they both plan to pursue advanced degrees and careers that combine clinical patient care with opportunities to conduct research. Imbarlina is applying to dual physical therapy and biomedical engineering PhD programs. Katyal hopes to attend medical school.
"Research has been a big motivator of me wanting to do medicine," says Katyal. "I genuinely enjoy research. I think that it's shown me the creativity in medicine. With oncology research especially, we're constantly developing new techniques and ways to help patients. It feels like I'm learning something new every time I go in, and it's yielding great results. I definitely want to be a part of that in the future. "
Imbarlina agrees: "Research is very much for tomorrow," she says. "It's a collaborative effort around the world to reach long-term goals, whereas, with physical therapy, it's: 'What can I do right now to help you?' I would love a life where at least a couple of days a week, I'm working with people doing traditional PT, but I also love research and teaching, which a PhD would allow me to do. My ideal world would be doing all three of those things. "
Investing in a Pipeline of Hope
Philanthropically-funded basic research projects like those conducted by Imbarlina and Kaytal provide crucial fuel for the larger experiments and clinical trials that lead to better treatments and more hope for cancer patients everywhere. The kind of support offered by the Harrison Undergraduate Research Awards also helps to develop future clinician-scientists and scholars, who, like Imbarlina and Katyal, will build on the work of their mentors and predecessors at UVA to solve some of life's biggest challenges for their generation and beyond.
This article was authored by Katherine Ludwig.