A Vital Investment in Research
For three decades, Dr. Craig L. Slingluff Jr. has been leading critical advances in immunology and immunotherapy for UVA's Comprehensive Cancer Center. In addition to his roles as the Joseph Helms Farrow Professor of Surgery, the vice-chair for research in the Department of Surgery, and director of the UVA Cancer Center Human Immune Therapy Center, he continues to pioneer groundbreaking research and cutting-edge clinical trials as an independent investigator in cancer immunology and immunotherapy.
Now, a new $1 million gift is poised to revolutionize Dr. Slingluff's efforts through the creation of the Dr. Craig L. Slingluff Jr. Cancer Research Fund.
This transformative gift, made anonymously, supports Dr. Slingluff's research interests, most notably, advancing cancer vaccines and combination immunotherapy to work against human solid cancers. Gifts like this one underscore the significant impact of private philanthropy in accelerating early-stage cancer research, like Dr. Slingluff's.
"I am incredibly grateful for this generous investment in our work," said Dr. Slingluff. "It has already allowed us to start a new clinical trial and reopen another trial that had been on hold. The first of these is designed to reduce surgical morbidity while maintaining or improving oncologic outcomes. We expect that trial to start in March at UVA and open soon after at multiple other national melanoma referral centers. In addition, the funds have enabled us to make immediate progress on two other key projects, the success of which should lead to further federal funding."
While Dr. Slingluff and his team are focused primarily on developing better treatments for melanoma, their broader interest is in determining how these discoveries can be applied to treatments for a variety of other cancers. Over the course of the last 25 years, Dr. Slingluff has designed and run more than 25 investigator-initiated clinical trials testing cancer vaccines, targeted therapies, intraoperative imaging, and surgical technology.
Currently, the Slingluff Lab is investigating a new immune-stimulating therapy in combination with a helper peptide vaccine. It's a groundbreaking approach that will lead to a new understanding of, and potential new treatments for, melanoma and other cancers.
"Our ability to harness the power of the immune system to fight deadly cancers like melanoma is only possible when we have the freedom and the flexibility to explore new therapies and clinical trials without delay," said Dr. Slingluff.  "Gifts like this open a world of possibility and empower us, as researchers, to uncover solutions that will change lives."
Private support like this recent gift to advance Dr. Slingluff's research has played a key role in cementing UVA at the forefront of cancer research and care. The University, which has already made many significant contributions to cancer prevention and treatment, was recently named by the National Cancer Institute as the first Comprehensive Cancer Center in Virginia.
These vital investments in health sciences and medicine have already had a tremendous impact, one that Dr. Slingluff has witnessed firsthand as a researcher, and most recently, as a patient himself.
"My own health care has provided a unique opportunity to appreciate the importance of research and the direct role it plays in improving, and in many instances prolonging, the well-being of patients," he said. "For me, it has provided greater motivation to focus my time and energy on this critical research."
This gift, while directly advancing the work of the Slingluff Lab, has additional significance in that it honors the memory of two UVA alumni—Katherine "KK" Harris McCart and Rebecca "Becca" Clary Harris, MD. KK and Becca grew up together in Richmond and Deltaville and were sorority sisters at UVA. Becca went on to medical school and became a researcher in Dr. Slingluff's lab.
Becca's family said her lifelong commitment to melanoma research was evident during the time she spent as part of the Slingluff Lab. Now, they take comfort in knowing that this progress will continue through this latest contribution to his work, honoring Becca in an entirely new way.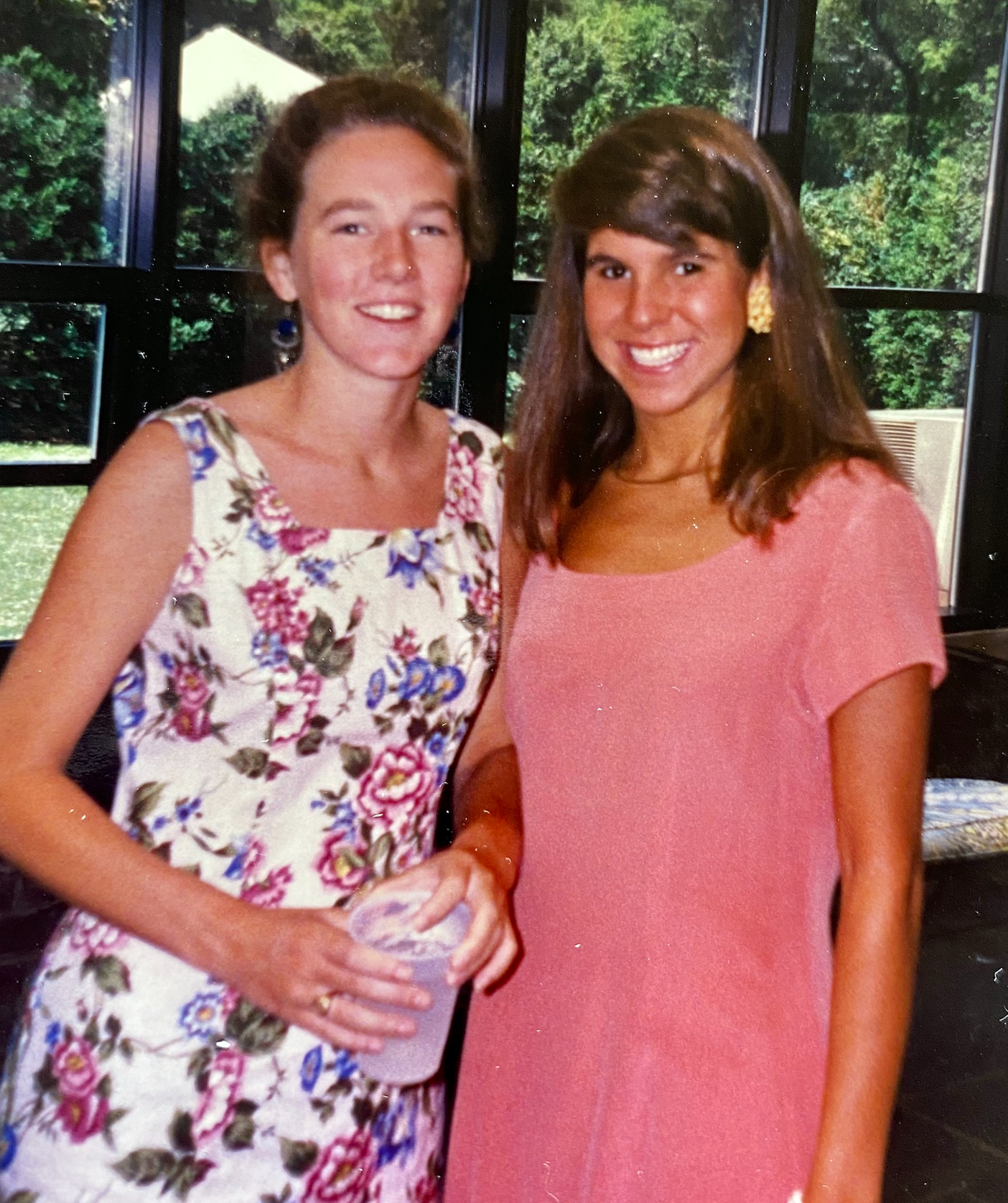 Becca's family said her lifelong commitment to melanoma research was evident during the time she spent as part of the Slingluff Lab. Now, they take comfort in knowing that this progress will continue through this latest contribution to his work, honoring Becca in an entirely new way.  
"Becca was always interested in medicine. Her maternal aunt and namesake died of melanoma at a young age, which made her work in Dr. Slingluff's lab even more meaningful," said Dr. Richard Clary, Becca's father. "When KK died so young, it seemed that Becca was farther away than ever. This extraordinary gift, in memory of our two wonderful girls, keeps their memory alive and keeps them closer to us." 
Tyler and Frances Harris, KK's parents, shared similar sentiments. "KK would have enthusiastically supported the cancer research that this gift to UVA allows. Cancer has affected her family and friends, and as such, the Harris\McCart family is humbled and so appreciative of this generous gift, which will leave a lasting legacy in memory of Becca and KK, two outstanding young women," they said.
As Dr. Slingluff looks to the future, there is no doubt that this gift will propel his innovative research forward. As for the Harris/McCart and the Clary/Harris families, who were once united by their tragic losses, they are now bound in a new way: through immense pride that their daughters' legacies will live on in a way that positively impacts countless lives. 
This article was authored by Meghan Goff. 
To learn more about Dr. Slingluff's work and the role you can play in furthering melanoma research at UVA, please contact Andrew Westhouse, Senior Associate Director of Development, Cancer Programs, at aw5xv@uvahealth.org or call us at (434) 924-8432 or (800) 297-0102.