Crowdfunding Made Easy
UVA Health's digital platform makes it easy to rally support.
Imagine that your friend's daughter has just been diagnosed with a rare disease, and you want to do something significant to help. You know they need more than a few hot meals and wish to raise money for research, increase awareness of the disease, or galvanize the support of friends and family far and wide. You've heard of crowdfunding, but how do you proceed?
UVA Health Foundation has a digital platform to assist called Get Involved. This crowdfunding resource allows users to create web pages to solicit donations to a meaningful cause within UVA Health. You can use Get Involved to raise funds in connection with a specific event or initiative, support a UVA Health patient or provider, or honor a loved one.
Since Get Involved's inception in 2016, community members have created more than 200 donation webpages, solicited more than 18,000 individual gifts, and raised more than $2,757,070 for UVA Health causes related to cancer, pediatrics, mental health, neurology, and more. The total raised in the fiscal year ending June 30, 2022, alone was more than $270,000.
Here are a few examples of Get Involved community fundraisers that have made a significant difference:
Parker Ruhl's Story
When Parker Ruhl, MD, was attending UVA School of Medicine, her mother, Patricia, had a serious schizophrenic episode that left her hospitalized. Recognizing a need to be there for her family at a difficult time, Ruhl decreased her course load, taking five years instead of four to complete her medical degree. At the time, Ruhl said that UVA's Medical Alumni Association stepped up to help by providing a 50% scholarship for her last three years of medical school. "UVA was incredibly supportive in a holistic way that mattered," said Ruhl. "They recognized that I needed time to support my family and understood the financial implications. They helped me identify the steps to take and helped me stay in school." Ruhl is now a research pulmonologist with the National Institutes of Health.
When Patricia passed in the summer of 2021, Ruhl's family knew they wanted to honor her memory and help other medical students at UVA. They created their Get Involved page to raise scholarship funds for fourth-year UVA medical school students who want to focus on psychiatry. Since they launched their donation page, the family has raised $66,680 and awarded two scholarships.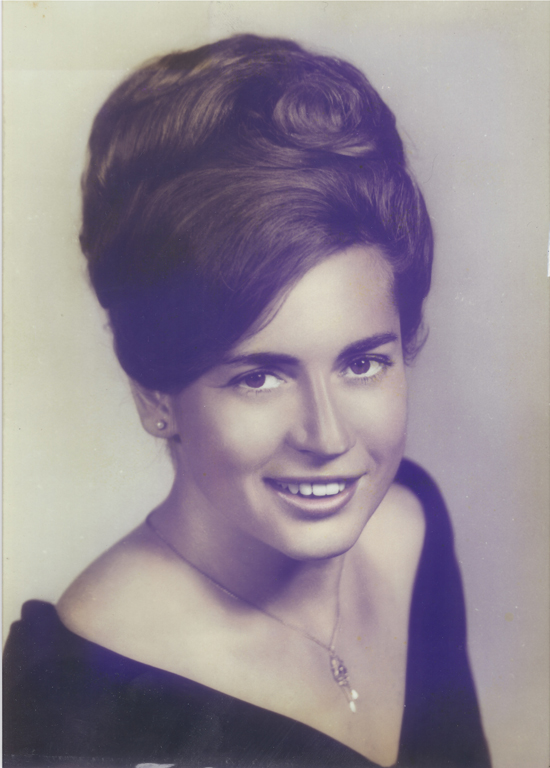 Patrcia Ruhl's family started a fundraiser in her honor. (Photo courtesy of the Ruhl Family).
"It is significant that UVA Health makes this tool available," said Ruhl. "You can tell your friends and family about it, and the site provides a place where they can read about the fund and absorb the real purpose. It's important to have that landing page to guide people."
The Dyan Aretakis Fund
Dyan Aretakis, NP, was well known in the UVA Health System and the Charlottesville community. She helped found and direct the UVA Teen and Young Adult Health Center and was a tireless advocate for teen and reproductive health and empowering women. Aretakis received many awards for her compassionate work in the field.
When she passed in 2018, her family, including her husband of more than 30 years, Stuart Berr, PhD, a UVA professor of research in the Department of Radiology and Medical Imaging, knew they wanted to honor Aretakis's efforts in support of patient care. To accomplish this, they started a Get Involved page to raise unrestricted funds for patients at the clinic. The extra funding helps clinicians address patients' needs and enhance their quality of life by offering everything from bus passes to a week at Camp Holiday Trail.
Get Involved has made a big difference to Berr and his family and provided an effective platform to raise funds for a cause close to his heart.
Pickled Pink Pickleball Event

Breast cancer survivors and avid pickleball players Lisa Wayand and Kelly Johnston organized the Pickled Pink Pickleball tournament on October 9 at the Boar's Head Resort to support the Breast Care Program at UVA Cancer Center. They used the Get Involved platform to help facilitate this fun community fundraiser. Their webpage specified sponsorship levels, provided opportunities to purchase honorary banners, and included a link to register for the event. Wayan and Johnson helped raise $10,000 for their cause using the tagline "We will be tickled pink to have your support of Pickled Pink!"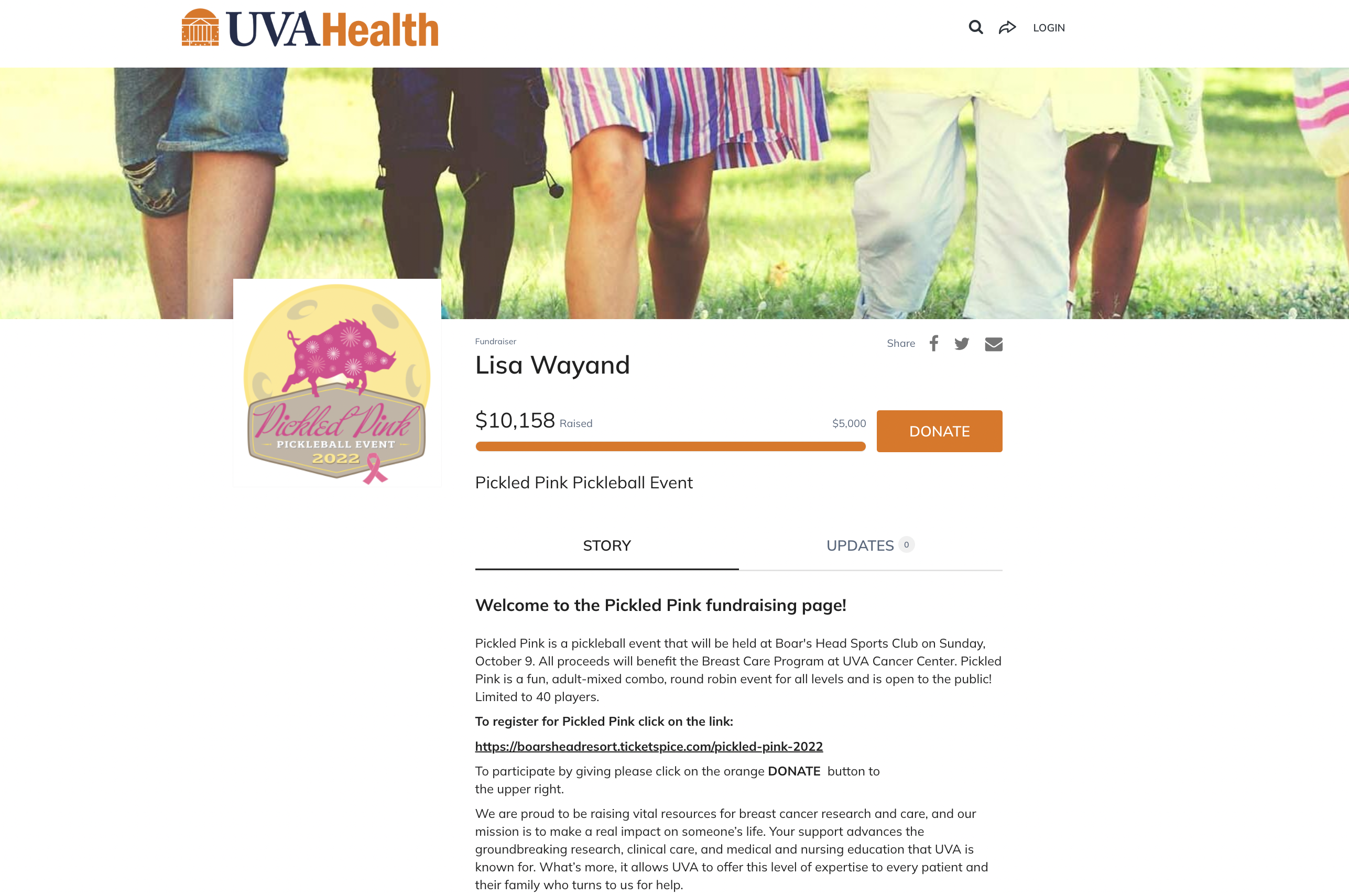 Making a Greater Impact Together
It's remarkable what communities can accomplish when they come together to support each other. Get Involved is designed to help make that happen, and this year UVA Health Foundation upgraded the platform to make it even easier to use and more effective. Check it out and start your fundraising page today by visiting: https://getinvolved.uvahealth.org!
This article was authored by Mary Kay Campbell. 
Click here to see the full Winter 2022 issue of Pulse.