Helping People Find Their Calling
$5 Million Gift Relieves Financial Burdens on Career-Changers Entering Nursing
Marine biologists. Political Lobbyists. Attorneys. Bakery owners. UVA's Clinical Nurse Leader (CNL) master's program brings together people from all walks of life who want to join the nursing profession.

As the program celebrates its tenth year, a $5 million transformative gift from Washington, D.C., philanthropists Joanne and Bill Conway continues to diversify the School of Nursing program's student body through scholarship support while fortifying its administrative and teaching base.
The Conways are forging real, meaningful change in nursing.
"The Conways are forging real, meaningful change in nursing," says Dorrie Fontaine, dean of UVA's School of Nursing, "because they're bringing even more people to nursing who look like, talk like, and understand the patients they serve. Their steadfast support means our school's doors are open even wider than before, and this purposeful, thoughtful inclusion and diversity will ultimately benefit us all."

The Conway's second $5 million gift furthers the couple's support of UVA's fast-track-to-nursing program for non-nurses entering the profession. Over five years, it will provide scholarships to more than 110 new nurses who will bring a range of skills and experience from outside the profession to the bedside, with a particular focus on students from underrepresented and minority groups, including men.

"Joanne and I are proud to continue to support the School of Nursing at UVA," Bill Conway says. "Our first gift worked out so well, and we are so proud of our existing scholars that we decided to make another gift, this time to support a fast track to nursing."

The program is the first of its kind in Virginia and ranked second in the nation. CNL students attend intensive academic courses in their first year and begin clinical rotations with mentorship the second year. They graduate with 1,000 clinical hours, fully eligible to become entry-level nurses. Many rise quickly into leadership and management positions.

Most CNL students come to nursing later in life, and many have families. As students, they don't have access to undergraduate scholarships, can't serve as teaching assistants, and don't have time for even part-time jobs. While UVA's program costs significantly less than other top nursing schools, CNL students can graduate with between $40,000 and $50,000 in debt.
"As a father of two preschool-aged children, the stressors of changing careers and attending graduate school full-time were greatly reduced knowing that I wouldn't be faced with absolutely crippling debt upon graduation," says UVA pediatric nurse Ryan McFadden, who graduated from the program in 2015.

"Though I still had to take out federal loans, my debt is half of what it would have been had I not received the Conway Scholarship."

The CNL program currently includes more than a quarter of students from underrepresented and minority groups. It also enjoys strong participation from men, who make up nearly 19 percent of the program's student body.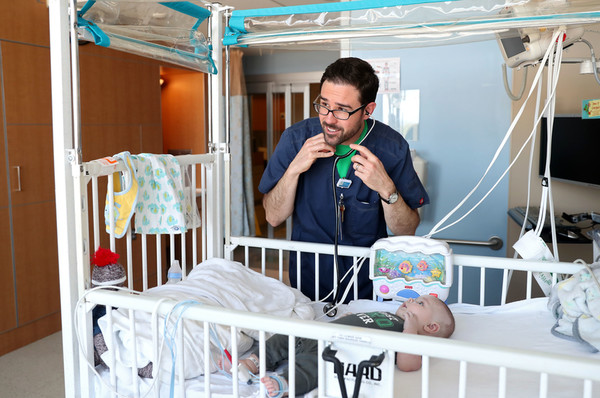 Ryan M. Kelly/The Daily Progress