UVA Cancer Center Achieves Comprehensive Status
UVA Cancer Center has received a much sought-after Comprehensive Cancer Center designation by the National Cancer Institute, the largest funder of cancer research in the world. This recognition, which became official on February 1, is only given to centers that meet the most rigorous standards for innovative research and leading-edge clinical trials.
We talked with Thomas P. Loughran, Jr., M.D., Director of the University of Virginia Cancer Center, F. Palmer Weber-Smithfield Foods Professor of Oncology Research and Professor of Medicine about this momentous achievement:
Dr. Loughran -- you joined UVA's Cancer Center eight years ago, and one of your goals was to attain Comprehensive Cancer Center status. Congratulations on receiving this important designation in February 2022! Please tell us about this exciting achievement.
Achieving Comprehensive status represents a significant milestone for our institution and the patients we serve and positions us among 52 of the finest cancer centers in the country. This designation is given by the National Cancer Institute (NCI), the largest funder of cancer research globally. The teams at UVA Cancer Center worked tirelessly to earn this designation by upholding the highest standards of interdisciplinary research that helps prevent, diagnose and treat cancer. I'm proud to say we are now the only NCI-designated Comprehensive Cancer Center (CCC) in the Commonwealth of Virginia.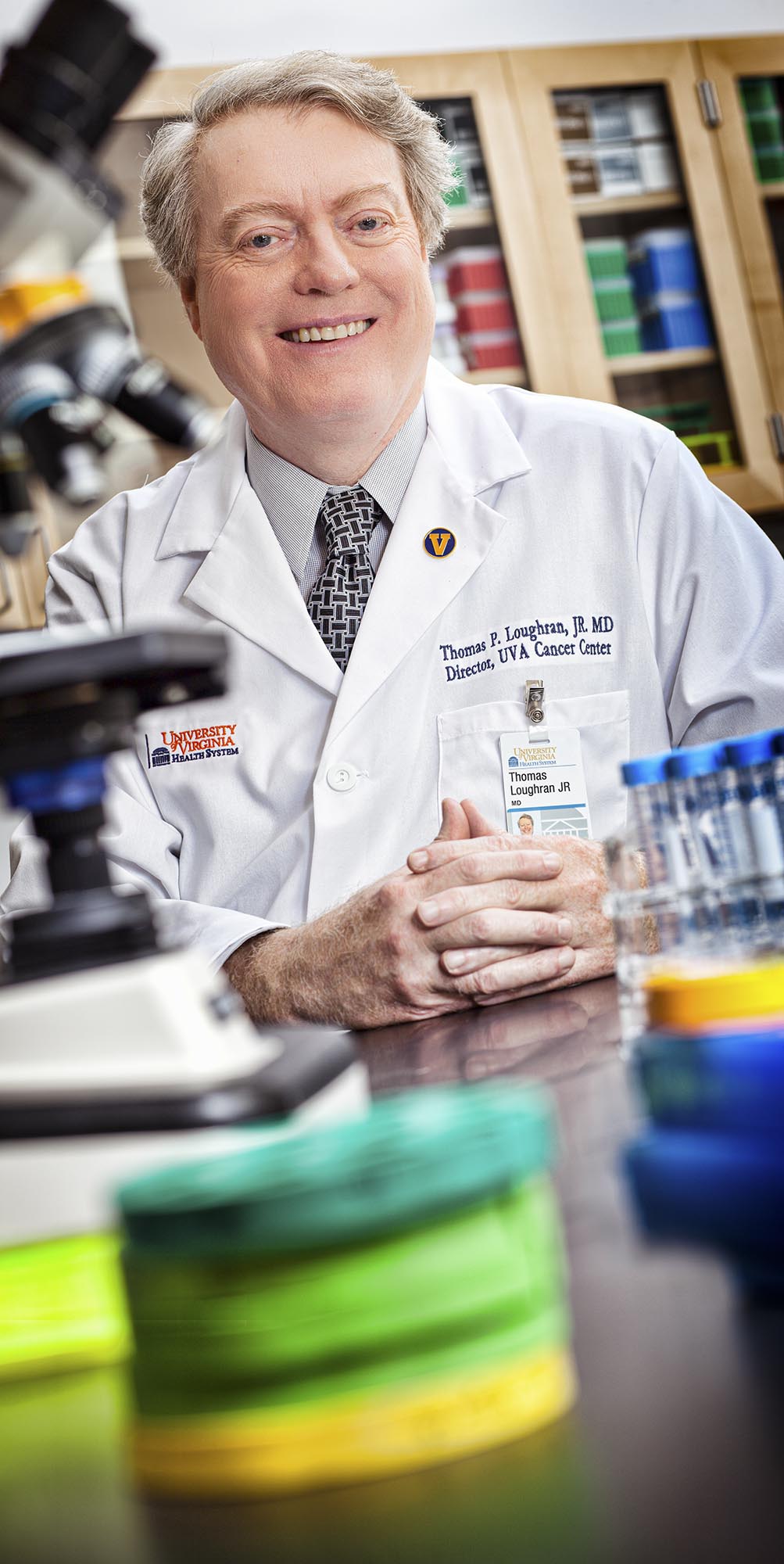 UVA Health
To attain Comprehensive status, we needed to demonstrate expertise in several different categories to help our communities, which includes 87 counties with approximately 3.2 million people. This region is considered Appalachia and includes southwest Virginia. We are one of the largest medical centers in the nation helping underserved and rural populations.  
We also needed to amplify our research, particularly for innovative clinical trials. Through the efforts of Dr. Rob Dreicer, Deputy Director of the Cancer Center, we doubled the number of patients on clinical trials.
Additionally, we recruited 80 to 100 physicians and scientists to the Cancer Center in eight years. The most extensive recruitment effort focused on physician specialists in the many different types of cancer, so there is no longer a reason for anyone to go out of state for cancer care. And we now have super-specialists in many areas, including breast cancer, leukemia, lymphoma, lung cancer, and many others, to help our patients with virtually any type of cancer.
What steps did you need to take to earn the Comprehensive Cancer Center designation?
There are four criteria that need to be demonstrated to gain Comprehensive status. The first is the depth and breadth of basic, clinical, and population research.
Basic science research here has always been strong and is currently overseen by Dr. Roger Abounader, associate director of basic sciences. However, we didn't have a population research program. Population research aims to understand the inequities and disparities among populations due to numerous social, environmental, cultural, and physical factors. Building this capability took a tremendous amount of effort, investment and startup funding to recruit a great team of scientists. From this, we learned that incidences of lung and colorectal cancer are higher here than anywhere else in the nation, which is a big problem. We needed to identify the risks and determine ways to improve outcomes for our patients, as the best way of conquering the cancer problem is cancer prevention. This immense effort was the linchpin for the Comprehensive designation and has been led by Dr. Roger Anderson, the associate director of population health.
What other areas have you enhanced to receive Comprehensive status?
The second criteria bridges numerous scientific areas to solve various health-related issues. We accomplished this by taking advantage of the great strengths of the University of Virginia with cross-Grounds initiatives and collaborations. An example of this is the nanoSTAR Institute, led by Dr. Mark Kester, which provides a collaborative platform for nanoscale research and commercialization of products. We now have several nanotherapeutics in clinical trials. We have established collaborations across Grounds with 162 cancer center members spanning 25 departments and four schools at UVA.
A significant focus of our grant renewal was improving our cross-Grounds collaborative record. Associate Director for Administration, Dr. Dina Halme, played a critical role in this process. Collaborative research often requires the use of shared resources or cores that provide large state-of-the-art equipment and specialized research services. Dr. Jay Fox has provided superb oversight for this for many years as the associate director for shared resources.
The third one is relatively new, which is community outreach and education. We have had a strong program in this area for over ten years, focusing on Southwest Virginia and supported by state tobacco settlement funds. We offer colorectal cancer screening, lung cancer screening and other interventions in the community. For example, there's an excellent e-health platform in psychiatry, and they've enrolled thousands of participants. It's an iPhone app that helps adults in the region reduce their consumption of sugary drinks called SIPsmartER.   This interventional effort helps as sugary drinks are linked to obesity, which is linked to colorectal cancer. This program is led by Dr. Jamie Zoellner and is an example of an intervention that translates science into the community. It's one of only a few obesity programs endorsed by the National Cancer Institute. This entire effort in community outreach and education was a new area for critical review by the NCI, and Dr. Wendy Cohn did a fantastic job in organizing this new initiative.
The fourth area is critical -- training and educating the next generation of doctors, scientists, nurses, and other professionals. And the NCI expects that you're even extending educational programs into grade school. Amy Bouton, Ph.D., associate director for education and training, has led this effort, which received the single best score of the entire grant; she's done a great job.
So to be a Comprehensive Cancer Center, you can't have any weaknesses in any of those four areas.
Tell us about the research that has taken place at the Cancer Center during your tenure.
We have seven points in our strategic plan, and they are focused on building on the foundation of UVA's strengths and establishing critical new areas.
The two biggest priorities are building up the population research program and strengthening our therapeutics program to develop new therapies for patients. We are proud to highlight the work of Dr. Craig Slingluff, who's been a pioneer in identifying tumor-specific antigens in melanoma. That is an excellent example of working across Grounds with other departments, leading to an internationally recognized vaccine program for melanoma.
Furthermore, immunotherapy efforts have been strengthened with new recruitment and facilities, including a place to manufacture cellular cancer therapies. The vaccine program has had some exceptional clinical responses. I had a patient who sent me an email saying, "I'm from the Norfolk area, and ten years ago, they told me I was dying of melanoma. No hope here. I traveled to UVA and went on an experimental protocol vaccine for melanoma, and I'm still alive."
This is a newer and exciting area of treatment that harnesses the power of an individual's immune system to fight cancer. Patients have the potential of unlocking their own immune response, but cancer actively signals and turns down this reaction. However, in the last ten years, several approaches have become successful in boosting the immune response to cancer. Miraculously, this approach has improved some patients' conditions and is now considered the fourth pillar of cancer treatment besides surgery, radiation and chemotherapy. 
If a prospective patient receives a cancer diagnosis, how can UVA's Comprehensive Cancer Center help?
If a person is diagnosed with cancer, I always recommend they seek consultation at a major medical center like UVA. A cancer diagnosis is complicated, and the initial conclusion could change with our expert review. It requires a sophisticated team to validate the diagnosis and determine the exact subcategory of cancer. We have a team approach to determine the best treatment for the patient. Often, the best method is combined therapy like radiation, surgery, chemotherapy, or immunotherapy together or sequentially, and we have the breadth to offer these services.
We have been making great incremental strides in the five-year survival rate, which we benchmark to the American Cancer Society statistics. The potential for being cured of cancer has risen from 40% to almost 60% over the past couple of decades due to numerous advances. Additionally, if the patient's illness comes back, they definitely should come to see us as we may have an innovative therapy to help them that may not be available in community hospital settings. 
Furthermore, since patients travel from long distances to see us, once we determine the best initial therapy, if it's a standard approach, we can refer them back to our community colleagues, where their care can be delivered close to their homes. The advantage is not only for the patient's convenience, but we've trained many doctors in the state of Virginia so they will have excellent care. 
How has private philanthropy helped move projects forward, and how is it critically important to the Cancer Center's efforts?
Many of the grants we seek from the NIH are extremely hard to secure. Only the top seven or eight percent of applications receive these grants, so you must have a lot of preliminary data that supports all your work. That's why the Cancer Center depends on seed funding and philanthropic contributions. These funds provide essential resources to further potentially groundbreaking research that may not typically be funded initially through NIH, but five years from now could have a profound impact.
The second major area is recruitment and retention of faculty. To have the best faculty, we count on endowments to attract the best and brightest for two reasons: it's a big honor having a named professorship, and it provides money that may be used to explore new directions for research that might not be funded through traditional grants. So we are sincerely grateful for the support of our generous donors who have the foresight to enable many breakthroughs to come to fruition. 
For further information about UVA's Comprehensive Cancer Center designation, see the following resources:
https://giving.uvahealth.com/article/uva-health-receives-designation-virginias-only-comprehensive-cancer-center
https://news.virginia.edu/content/uva-earns-comprehensive-cancer-center-designation
https://www.uvaphysicianresource.com/comprehensive-cancer-center/
This article was authored by Rick Kessel.