Caring for Covid Regionally with Teamwork & Communication
How UVA Health is flattening the curve in long-term care facilities
On a good day, caring for patients at facilities like nursing homes or assisted living and rehabilitation centers is a challenging job. Add a global pandemic, and the task of caring for the vulnerable populations of these long-term care facilities only becomes more difficult.
Fortunately, during the earliest days of the coronavirus outbreak in the United States, staff from UVA Health and long-term care facilities throughout central Virginia designed a program aimed at keeping outbreaks of the virus to a minimum.
Dr. Laurie R. Archbald-Pannone, a geriatrician who is the program's lead physician, said the team's goal was to be proactive and to prevent the outbreaks that facilities in other parts of the country were already experiencing.
"We call the program GERI-PaL—meaning Geriatric Engagement and Resource Integration for Post-Acute and Long-Term Care Facilities," says Archbald-Pannone. "This program has really been a team effort and highlights the dedication of colleagues across the healthcare continuum—physicians, nurses, administrators, technology experts, local health officials and more—all coming together to support work with our local facilities amidst the challenges of Covid-19."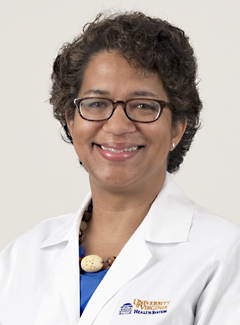 Following early planning, which consisted of listening to the needs of area facilities, coordinating supplies, and helping with plans for infection control, the UVA Health team identified two critical ways they could help: improving access to testing, and evaluating the flood of daily information about Covid.
To address testing, Archbald-Pannone worked with the Virginia Department of Health and Dr. Amy Mathers, who runs UVA's Microbiology Lab, to increase access to tests and to accelerate the reporting of results.
Rebecca Steele, a nurse liaison at UVA who helps integrate telehealth resources into communities, took the lead on information sharing.
"When this all started, everyone wanted to know the right thing to do to provide the best care," says Steele. "But how can anyone know when all of this is so new and when information is being published all the time?"
So Steele and the team at UVA began making webinars to help facility-based staff identify best practices and find the information most relevant to their needs.
"It hasn't been easy, but working with all of these inter-professional teams and with facilities in ways that are practical and valuable to the patients they care for has been a great experience," says Steele.
Early results show that GERI-PaL has helped prevent Covid-19 infections and reduced mortality when outbreaks occur. For example, of the first two facility outbreaks that the team has worked with, there were lower mortality rates than seen in previous outbreaks—12% and 19%, respectively. That's compared with a 28% mortality rate reported at a long-term care facility in Washington State.
In a recent paper, the UVA team highlights five key components of the GERI-PaL program:
Infection Advisory:
UVA Health worked with facilities to develop infection-control policies, address staffing needs, and improve access to personal-protective equipment (PPE).
Best Practices:
UVA Health experts like geriatricians and pulmonologists met virtually with nursing facilities to provide the latest Covid-19 information, testing, and treatment guidance.
Telemedicine:
The UVA Health Telemedicine team provided patient consultations, facilitated patient transfer to and from the hospital, and coordinated with patients' primary care physicians.
Nursing Liaisons:
A nursing liaison offered concierge-style service for each facility, helping to keep lines of communication open and ensure any needs were met.
Social Connections:
Volunteer medical students spoke with residents by telephone to combat social isolation and keep their spirits up.
Archbald-Pannone is proud of the outcomes that the central Virginia region is seeing, and notes that the teamwork between UVA and community partners has been an essential piece of this strategy.
"It's been an honor to help support our local facilities and their dedicated staff members in the care of these vulnerable patients," says Archbald-Pannone. "Many of the systems we've put in place and lessons we have learned will be value to improve care beyond even Covid-19."
With potential therapies or a vaccine for Covid-19 still in development, it's unclear when the pandemic will end. In the absence of such treatments, Archbald-Pannone says it's important to remain vigilant, even when the numbers are trending in the right direction.
"The fundamentals of the GERI-PaL program—communication, information sharing, and resource coordination—are sound," says Archbald-Pannone. "As we move into the fall and winter months, our UVA Health team will be working hand-in-hand with frontline caregivers to ensure they have everything they need to keep their patients safe."