Medicine + Empathy
Building a Better Emergency Department
Ashley is a seventeen-year-old female with sickle cell anemia. A first-year student at UVA, she just arrived at the Emergency Department with the type of severe back and hip discomfort that is consistent with a sickle cell pain crisis.

All Ashley wants is for her pain to subside so she can go home and rest. And that's all her doctors would want as well—if she were a real person. But Ashley isn't real. She's one of a handful of patient personas that Dr. Matthew Trowbridge is using to help first-year medical students gain empathy for patients seeking care and comfort in UVA's Emergency Department.

What does the patient need from their visit? What would bring them comfort? Are they scared? How did the patient get to the emergency room? These are just a few of the questions Trowbridge's students address as they huddle around one patient persona before moving on to the next.

The project? Trowbridge and his medical students are helping plan elements of the new Emergency Department at UVA Medical Center, which is set to serve its first patient in October 2019. The method? It's called Design Thinking, and it's a wildly popular methodology for innovating solutions to human-centered problems, like Ashley's.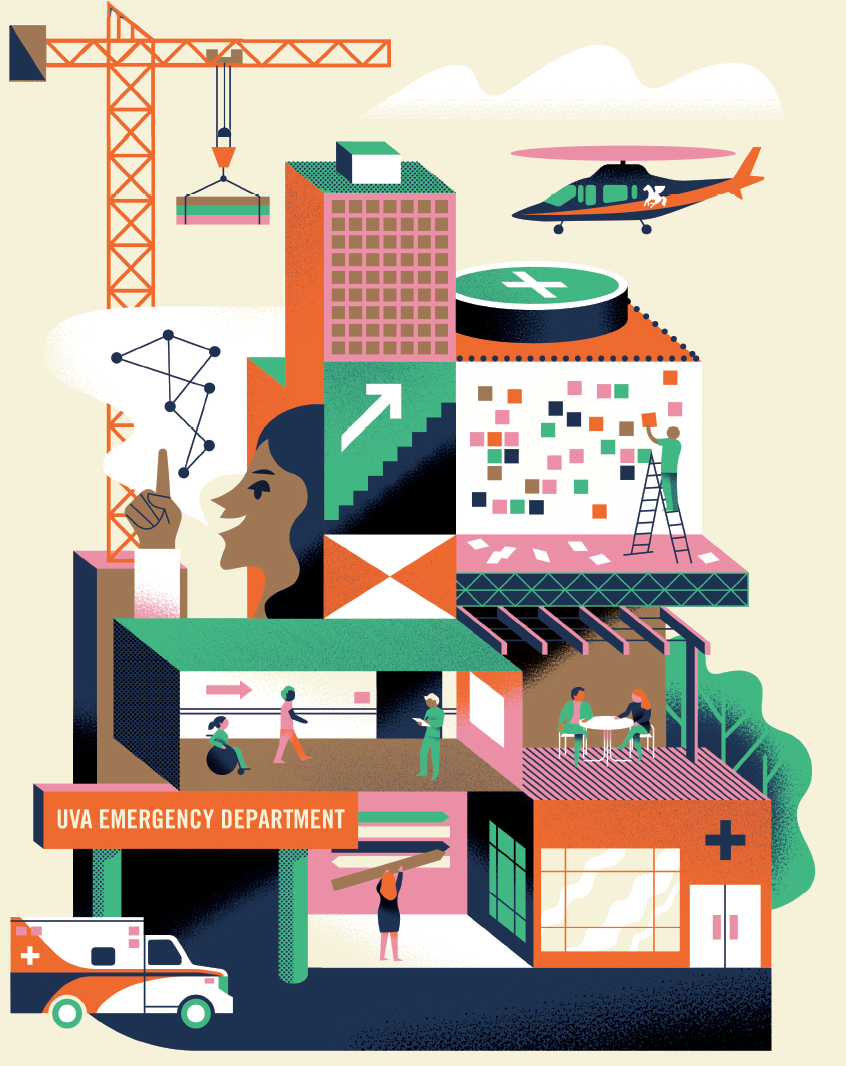 Artist: Brad Woodard
Diagnosis, Treatment, and Change

"Design Thinking is a well-established methodology for creating new products and services within the business and consulting worlds," says Trowbridge, an associate professor in the UVA Department of Emergency Medicine. "What's new is applying it to healthcare and medical education."

At its core, Design Thinking rests on developing empathy for individuals who are facing a common challenge or who are trying to accomplish a shared goal. By forming a more complete understanding of the motivations and unmet needs of each individual, and by following Design Thinking's focused, iterative methodology, new approaches to complex problems can be revealed. Trowbridge argues that by offering opportunities to learn and apply Design Thinking, UVA School of Medicine will soon graduate a new kind of doctor.

"Training our students to be world-class clinicians remains our top priority—doctors with the ability to move quickly and decisively from patient intake to diagnosis to treatment," says Trowbridge. "However, we're entering an era where many of the biggest issues facing healthcare are complex system-based problems, like childhood obesity or social isolation. This will require a new, supplementary skillset for physicians."

Preparing the doctors of tomorrow to have the confidence, knowledge, and experience to influence the systems that impact the health of their patients and surrounding community is among the main goals of the Medical Design Program—an initiative Trowbridge launched in 2015 to formally study Design Thinking in the medical school space.

An elective option for first-year medical students, the program has seen skyrocketing demand and has already received multiple grant awards from the School of Medicine's curriculum committee, the Emergency Medicine Center for Education, Research, and Technology, and the Jefferson Trust.
Coe Sweet
A Practical Application
The Medical Design Program goes beyond theoretical personas as a vehicle for curriculum. As part of their course, students apply design thinking techniques to inform ongoing efforts to improve the experience of the 65,000 patients who visit UVA Emergency Department each year.

This year students in the Medical Design Program tallied more than 70 hours of formal observations focused on improving the design and operation of the Emergency Department waiting room—a space that is often overlooked, despite the important function it serves for patients and their loved ones.

After working with Trowbridge to harvest and refine the most significant insights through the Design Thinking process, students share their findings with Emergency Department leadership.
"The experience that this class provides our medical students will prove to be of great value, both to the students as they develop in their careers, and to the Health System, which, as a result of the insights students develop, will be better positioned to care for our patients," says Dr. Deborah Vinton, medical director for the Emergency Department, who teaches alongside Trowbridge.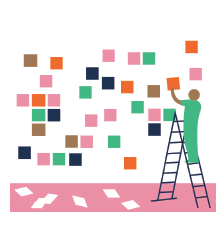 "One thing we hear from our patients is that they need better signage to navigate the Emergency Department, and a lot of the ideas coming from these students will inform how we improve that aspect of our space," Vinton adds.
Continuous Improvement
While the new Emergency Department opens in October, fully optimizing how patients interact with the waiting room will take a year or two to perfect, and the insights developed by the Medical Design Program students, Trowbridge says, will assist in that process.

That's a scenario first-year medical student Katie Webb welcomes. So engaged with her current medical design course, she plans to partner with Trowbridge and several other medical students on further curriculum development for the Medical Design Program this summer.
"This work starts with empathy, and I think that, as a physician, feeling a sense of empathy for your patients is where you start," Webb says. "In a larger sense, we spend so much time in classrooms learning facts, but the Medical Design program pushes you to learn things not as they are, but to learn how to make things better."
Coe Sweet
As for the future of Design Thinking and the Medical Design Program, Trowbridge believes the effort is ripe for across-Grounds collaboration with architecture, engineering, computer science, and others because it reframes healthcare challenges as research and teaching opportunities.

"This program gives medical students a great educational experience, and teaches competencies that are highly relevant within modern medicine," says Trowbridge. "In return, the students are creating troves of new data and highlighting opportunities to directly improve patient care and experience with the UVA Health System—they're creating a lot of value."
Building a Modern Trauma Center
Each year, UVA's Emergency Department handles about 65,000 patient visits. As the only Level 1 Trauma Center in Central Virginia, demand for the department has exceeded capacity. UVA's new Emergency Department will occupy the first floor of the Medical Center Hospital Tower that is nearing completion. This move will nearly double the amount of beds, from 43 to 80, including private rooms.
Additional improvements include dedicated space for mental health services, express care for minor emergencies, waiting rooms designed for adults and children, expanded radiology services, a chest pain center, and a women's center for emergency care.

"Our current space was built in the 1980s, and it met our patients' needs for many years," says Dr. Robert O'Connor, who chairs the Department of Emergency Medicine. "But now we're seeing an uptick in the severity of our patients' injuries. This means that we are getting the most high-risk patients who need a much more sophisticated level of care."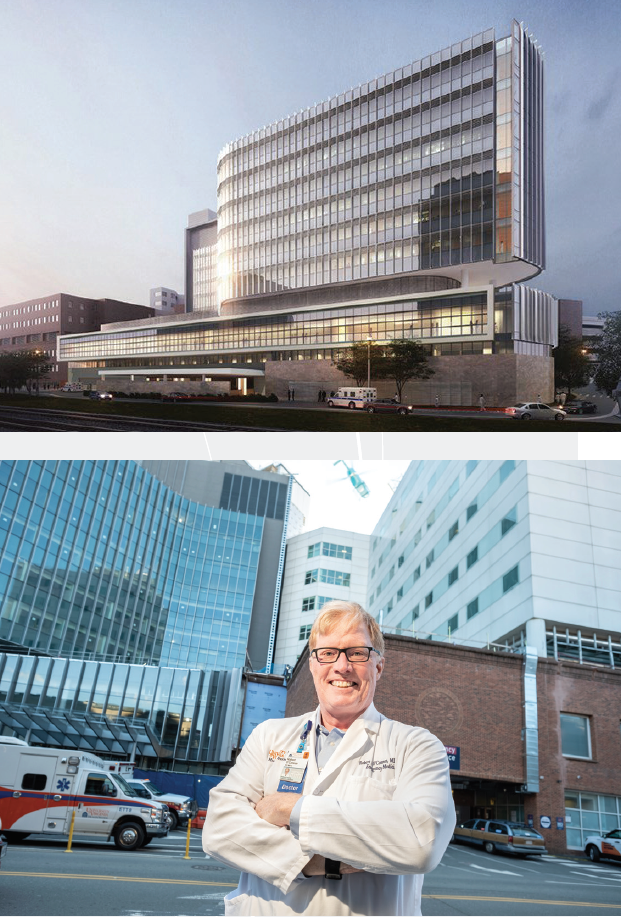 UVA Facilities Management (top) + Coe Sweet (bottom)