Precision Public Health
UVA Health is using precision medicine to address health equity.
In the last several years UVA Health has made tremendous strides in precision medicine—a revolutionary approach to patient care that takes into account the interplay of a person's biology, environment, and lifestyle. Using leading-edge tools and techniques such as genetic and genomic sequencing, epigenetics, and bioinformatics, our researchers are learning to better understand, measure, and target diseases on an individual level and making groundbreaking discoveries toward customized treatments for various cancers, diabetes, cardiovascular conditions, and more, including therapies that leverage a patient's immune system. They are giving physicians the ability to target the right treatments, in the right doses, to the right patients, at the right time for better outcomes.
Now UVA scholars and scientists are considering how those precision medicine tools and insights can be applied to further public health and equity, which is a primary focus of UVA Health's 2023-2032 strategic plan under the named priority "Cultivating Healthy Communities and Belonging for All." In addition, with a Grand Challenge Research Investment in Precision Medicine/Health under its 2030 'Great and Good' strategic plan, the University recently asked faculty to consider this research question: "How can we use the tools of precision health to improve outcomes and reduce disparities for communities and populations?"
In announcing support for this research opportunity, UVA Executive Vice President and Provost Ian Baucom said, "Grand Challenges provide an opportunity for faculty to come together across disciplines and schools to address some of society's most urgent questions. They let us build on our strengths and imagine a different future, one that directly helps communities."
The School of Medicine's new Center for Health Equity and Precision Public Health (CHEPPH) will be a major driver in turning that imagined future into reality.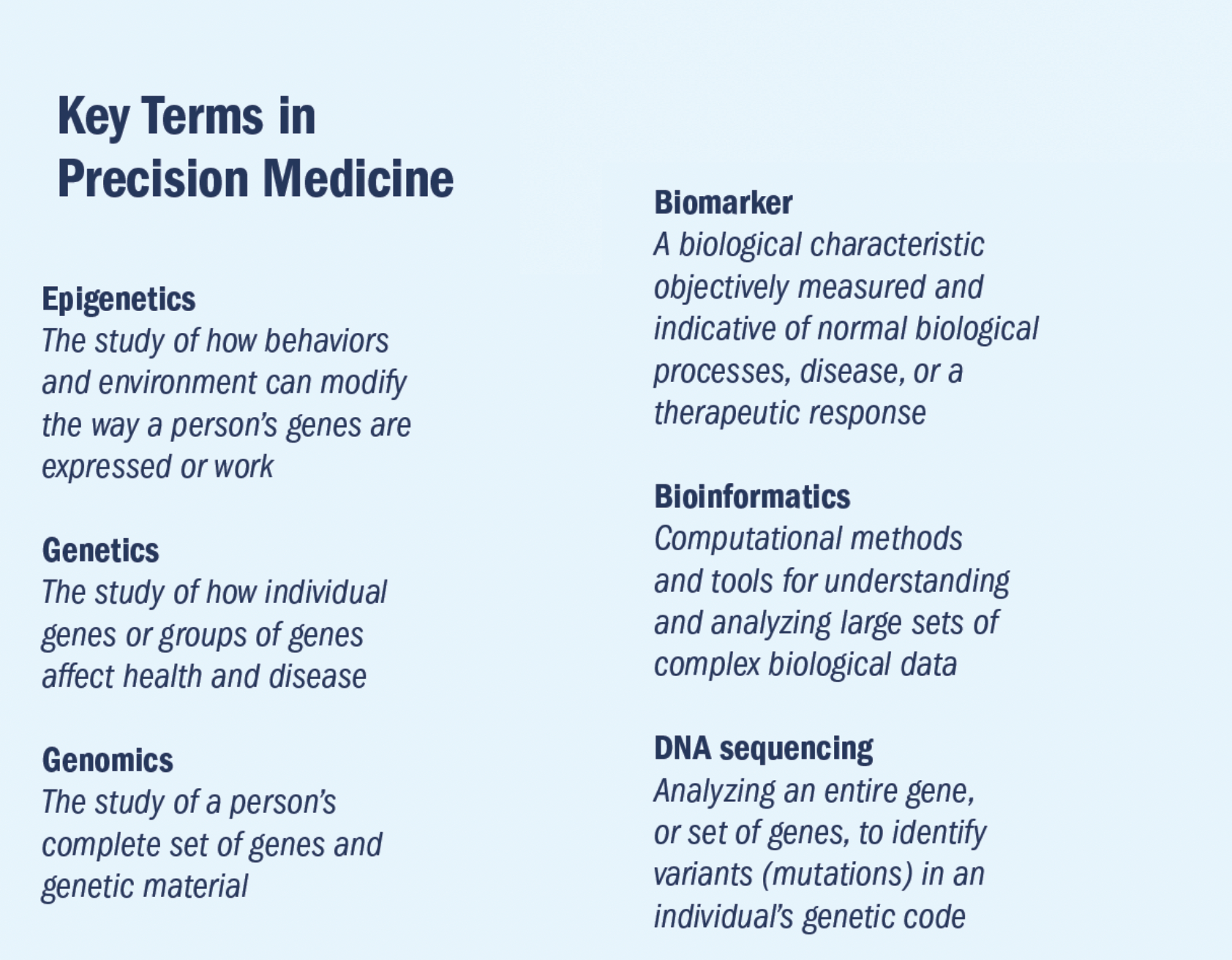 Determinants of Health: From Proteins to Policies
The new CHEPPH is led by Keith Keene, PhD, a geneticist and former postdoc at UVA's Center for Public Health Genomics who has returned to UVA from East Carolina University. Keene uses advanced DNA research techniques and genomics to understand increased risks for stroke, type 2 diabetes, and sudden infant death syndrome among minority populations. In addition to directing the CHEPPH, Keene is a professor in the UVA School of Medicine's Department of Public Health Sciences and resident faculty in the Center for Public Health Genomics.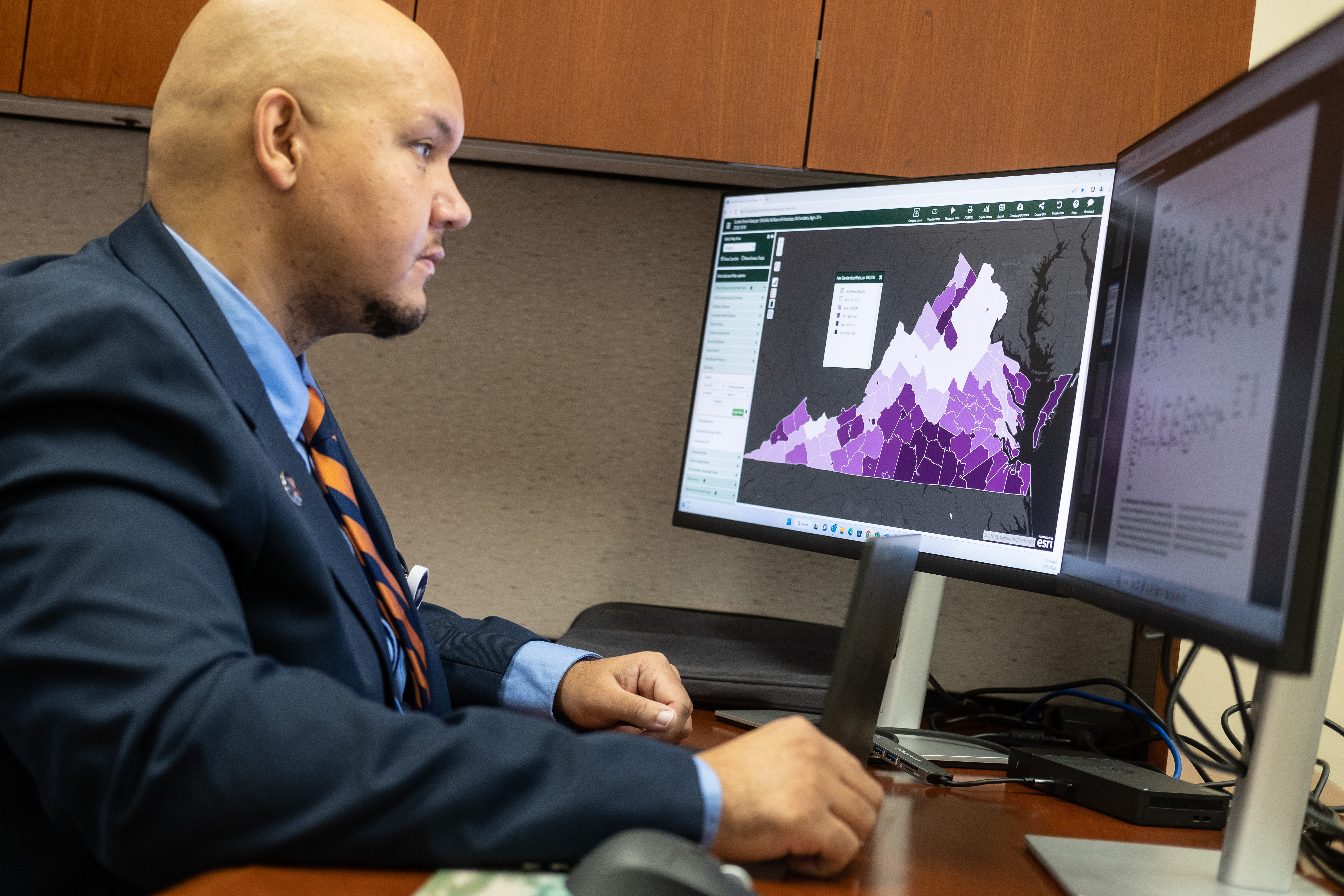 Traditionally, people like Keene look at how a person's genetic makeup contributes to their increased risk for certain diseases, and that information may be used for targeted therapeutics. They use genetic association studies, DNA sequencing, and epigenetics.They also measure and study other molecular biomarkers including proteins and metabolites on individual and population levels to further analyze disease risk and treatment targets.
Keene says his position at the CHEPPH is to serve as a bridge between these biological approaches to precision medicine and the many other arts and sciences disciplines trying to understand why certain populations suffer a greater health burden than others and what can be done about it. Understanding and addressing the interplay between biological factors and the social and environmental determinants of health and disease is key to increasing health equity.
"We need to work together more than separately," says Keene. "For example, we can bring in engineers and architects to look into how access to sidewalks and trails relates to type 2 diabetes risk. We can have environmental experts assess pollution exposures. We can look into how insurance policies, Medicare, and Medicaid contribute to health inequities, and we can go a step further and look into issues of social justice, education, and institutional racism," he says. "There are so many avenues to take."
Keene says partnering with community outreach and engagement experts and developing strategies to increase diversity and inclusion in the health-care workforce are also vital to improving health equity in the communities UVA Health serves.
"If you look at the data, individuals who receive their health care from people who look and talk like them have better outcomes," says Keene, "So let's figure out ways to get a more diverse public health and biomedical workforce. That includes a more diverse student population, which starts with exposing diverse students, as early as elementary and middle school, to these career paths. These are all opportunities."
Better Health Care for All
At the end of the day, UVA Health's efforts to advance precision medicine and precision public health are about pushing clinical care forward and giving patients everywhere equitable hope and opportunity for better health and disease prevention and treatment.
"I see a future where we have the ability not to treat individuals with a one-size-fits-all approach, but to tailor our care in ways that take multiple contributing factors—genetic, environmental, social—into account. It's a harder job. But it's a job worth doing and doing well," says Keene.
Authored by Katherine Ludwig
Your support makes breakthroughs possible. To discuss options for investing in leading-edge science at UVA Health, please contact Chrissy Gibbons, Director of Development for Research Departments and Centers, at chrissy@virginia.edu or 434.962.9045, or call 800.297.0102.