Supporting the Future of Nursing
$14 million gift from Bill and Joanne Conway takes aim at the nation's severe nursing shortage.
Nurses are essential to the nation's healthcare system. They are often the face of patient care in hospitals and clinics, playing pivotal roles in reducing health inequities and ensuring better health for all communities. By helping to educate the next generation of nurses, the UVA School of Nursing fulfills a critical need for well-prepared nurses throughout the commonwealth and the nation.
Yet the profession is under acute stress on several fronts. Factors related to the COVID-19 pandemic have sparked an exodus of healthcare workers. This national nursing shortage is exacerbated by a lack of space, financial support, and teaching resources in the nation's nursing schools. And with a wave of nursing faculty retirements expected over the next decade—the average age of a nursing professor is between 51 and 63—nursing schools cannot address the shortage without fortifying the pipeline of qualified educators to teach them.
That is why a new $14 million commitment from longtime UVA School of Nursing benefactors Joanne and Bill Conway of Washington, D.C., is such welcome news. The Conways' gift will reduce the cost of a UVA nursing education by providing at least 175 need- and eligibility-based scholarships to graduate and undergraduate students to cover tuition, school fees, room and board, and books. It will also fund scholarships specifically for students seeking a Clinical Nurse Leader (CNL) master's degree—a fast-track program for individuals transitioning to nursing from other careers—and for those pursuing a doctorate to become future nursing professors and nurse scientists.
The Conways' latest gift brings their total support for the School of Nursing to $49 million—a truly transformational amount. Their previous contributions expanded the school's capacity for students and enhanced access to its RN to BSN program by helping the school establish satellite sites in Richmond and Northern Virginia, expand the Mary Morton Parsons Clinical Simulation Learning Center, and develop a flexible pool of scholarships. Their giving also fueled growth of the CNL program. A $5 million gift in 2013 doubled the program's size and another $5 million gift in 2017 supported the education and preparation of 110 new nurses over five years and established the Conway Scholars program.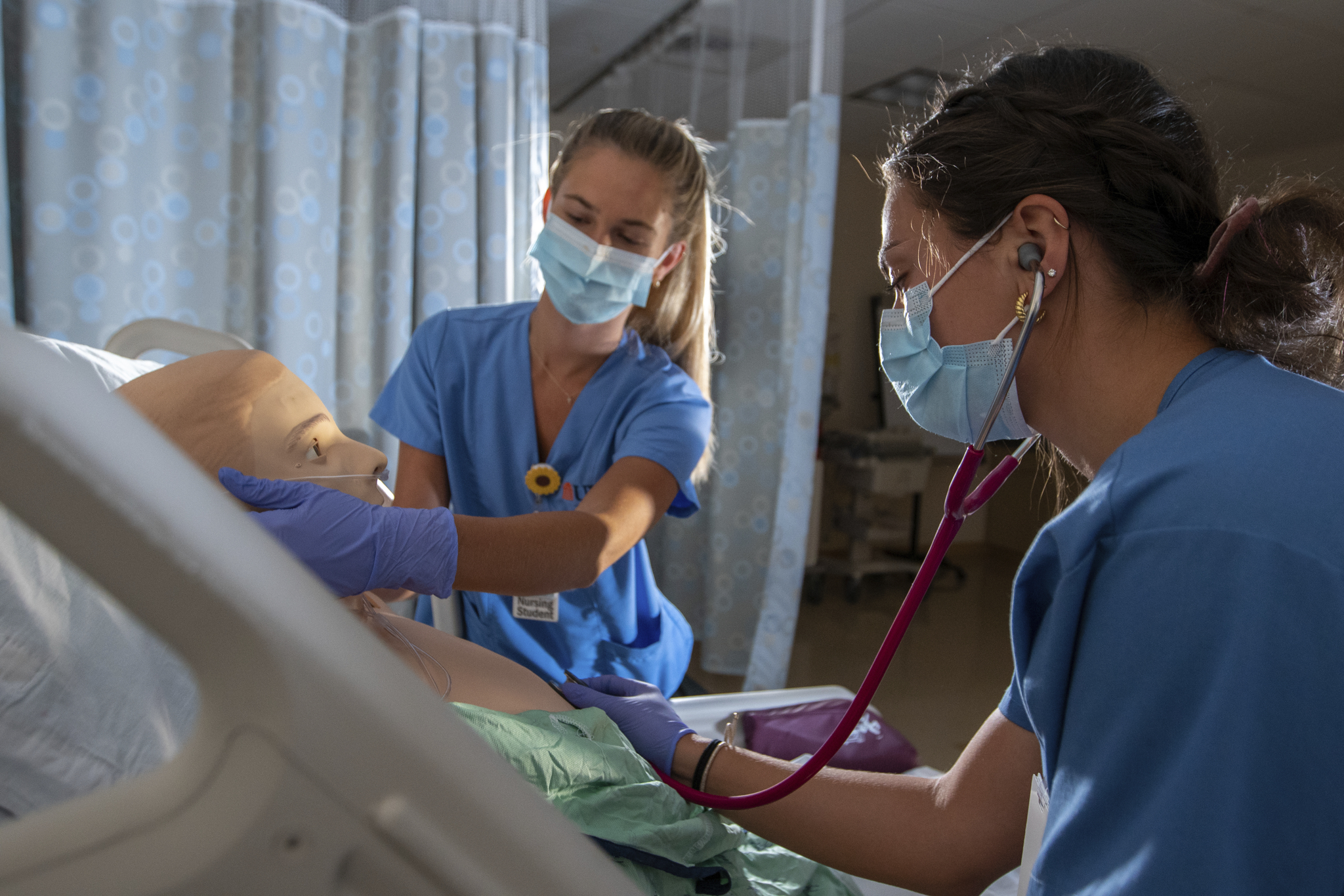 "Bill's and Joanne's extraordinary generosity comes at a critical moment as our country faces an unprecedented nursing shortage," President Jim Ryan said. "Their latest gift will enable more students to pursue nursing degrees at UVA, removing barriers and offering important support for students. I'm incredibly grateful for the Conways' ongoing commitment to the School of Nursing and the nursing profession as a whole."
Addressing a Multifaceted Crisis
According to Marianne Baernholdt, dean and the Sadie Heath Cabaniss Professor at the School, the overall shortage of bedside providers can be traced, in part, to a shortage of nursing professors—just 1% of nurses earn a PhD in nursing and become academics and scientists. "That means there are far too few people to teach the students who are applying in droves, especially to our undergraduate programs," she said. "About 80,000 qualified applicants a year are turned away from undergraduate nursing programs across the U.S. because there are too few faculty members and not enough space to teach them. That is a steep hill to climb, but it starts with attracting more nurses to programs like the PhD and DNP (Doctor of Nursing Practice)."
In addition, Baernholdt stressed the need to make it easier for nurses to consider graduate study in the first place. "We need to really show them the benefits so they can see the undeniable value in furthering their education: how it will change their perspectives, professional trajectories, their pocketbooks—and their patients' lives," she said.
The Conways' gifts are doing just that by expanding access to the school's CNL program.
"The current CNL program is a master's entry into the nursing track," said Sarah Craig (MSN '10, PhD '14), associate professor of nursing and current CNL program director. "It's for anyone with a bachelor's degree in another field who has switched their interest or decided to pursue their interest in health care. We have people with backgrounds in the sciences, and many of our students come from backgrounds in the arts. So now they have switched gears and decided to pursue a nursing career."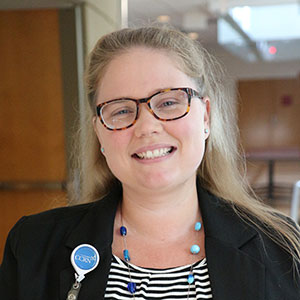 Associate Professor of Nursing and CNL Program Director, Sarah Craig
An innovative approach to patient care has been part of UVA's CNL program since its inception. It was the  commonwealth's first such program when it officially began in 2005, replacing UVA's previous accelerated BSN program.
The program has two tracks. One is for people who are new to nursing. The other is for those who are already registered nurses. Regardless of the track, most of the first year and a half is focused on training students to become registered nurses. The second half is focused on delivering high-quality care, ensuring patient safety, and improving systems at the forward-facing patient care setting at the micro and macro system level.
"It helps us to make this next generation of nurses focused on high-quality care delivery at the bedside and improving healthcare at a larger level," Craig said. "We want them to be problem solvers. We want them to be care coordinators. We also want them to be very focused on the latest research and the best evidence to drive care and change. And that's really what sets our program apart from other master's entries into nursing."
A Transformation in Real Time
Almost 20 years after the CNL program began, Craig sees the Conways' investments in nursing paying off. The CNL program has earned high marks from U.S. News & World Report's Best Graduate School Rankings for several years, including a No. 1-in-the-nation rank.
And when she's out recruiting students, Craig sees the real-life impact of scholarship support. "There are so many qualified applicants who want to become nurses, but they're at a place in their career or personal life where they have major responsibilities," she said. "They have commitments. They have families or someone that they are responsible for. Having that type of support to help them pursue their goals and be committed to working with populations in Virginia has a nice synergistic effect on improving overall student experience so they can focus on those goals. I think it helps us to be more inclusive and open our doors to anybody who wants to be a nurse and believes in the mission and values of the School of Nursing. I think those are critical things. And it's nice to be able to talk about those options and those resources."
Conway Scholars, she added, commit to participate in clinical training at places other than UVA.
"At least one of their clinical rotations will be somewhere other than UVA's main hospital," she said. "If there is a place where we can find a clinical site that will enhance their learning and also make a new connection in the community, we want to make that happen. And so Conway Scholars connect the school to communities in Virginia in a different way."
Craig added that she's grateful for the Conways' continued support and its ongoing benefits for the CNL program. "This gift continues to support our mission for training new nurses for patient care," she said. "These new graduates enter the profession of nursing with advanced leadership and quality improvement training. A program like this one has so much potential to empower nurses to be change agents and leaders."
Echoing Craig's sentiments, Baernholdt said: "Today, we nurses are more visible, listened to, and needed than ever before. I am grateful that Bill and Joanne Conway's continued support will allow us to educate even more skilled, compassionate nurses while supporting the pipeline of future nursing faculty members. This work will enhance our ability to address the needs of our communities for years to come."
This article was authored by William Cocke. 
Click here to see the full Winter 2022 issue of Pulse.