Why Philanthropy?
Facing a serious illness is an enormous challenge for any individual or family. It impacts the way we think about our priorities and draws us to focus on what is most important in life. When you, a family member, a friend, or a colleague encounter a healthcare crisis, you may seek answers and a greater understanding of a particular illness. And this journey may inspire you to give hope to others who are dealing with similar circumstances.
During your treatment, you may develop a special appreciation for a nurse, physician, or another caregiver. You observe their compassionate determination as they draw on their extensive training to provide the best guidance and care possible. You may even learn about groundbreaking research that is leading to improved treatments and better outcomes. Ultimately, this experience drives you to help people facing medical adversity, and with a philanthropic mindset, you can accelerate progress in a meaningful way.
An example of a patient who was motivated to give back is David Rathburn of Keswick, Virginia. He was inspired during the course of his cancer treatment, saying, "The medical team at UVA's Cancer Center made a powerful impact on my cancer journey. I could see how incredibly hard they worked in the oncology department, in particular, and how busy they are because so many people, unfortunately, are affected by this terrible disease." As an expression of gratitude for the care he received, David Rathburn and Jayne Rathburn made a gift to support two new advanced practice providers—one in colon cancer and another in head and neck cancer—for two years.  Even if you haven't encountered health issues, you may want to give hope to those who are less fortunate.
Make a difference in medical care, research, treatment, or education
When you make a gift to UVA Health, you can direct your support to programs in cancer, heart disease, children's healthcare, diabetes, or myriad other illnesses. We will develop a plan with you that aligns your passions with the service missions of UVA Health. Your support will enhance understanding of disease, advance discovery of treatments, support high-tech facilities, endow professorships, or create scholarships for the next generation of medical or nursing professionals. The possibilities are limitless, and all will benefit individuals, your community, the Commonwealth, and other regions we serve.
Options for funding your gift:
Our philanthropic officers can inform you and your financial/ legal advisors of various funding options, including:
Pledges that are made over time toward a specific commitment

Gifts of stocks, real estate, or other assets

Trusts, wills, and estate giving (details may be found

here

)

Employers' matching funds that can magnify the impact of your gift

Crowdfunding options that mobilize your family, friends, coworkers or acquaintances to your cause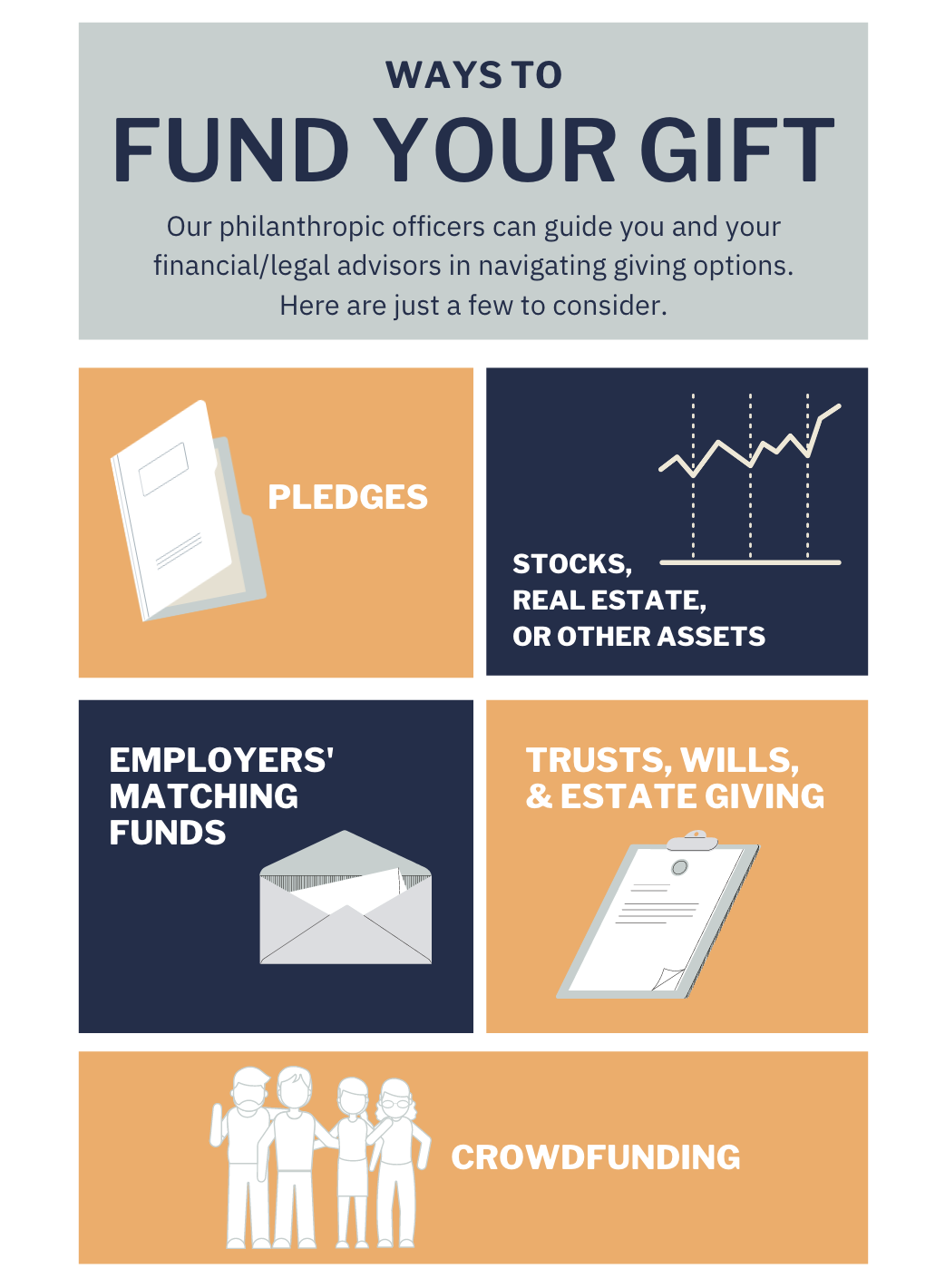 Are you interested in learning more?
Drawing on extensive experience with donors and philanthropic investments in UVA Health, our team will assist you in developing a plan to achieve your philanthropic goals.